Alumni Spotlight: From Pastry Chef to Software Developer
By:
Anna Nemeth, Makers Academy
Last Updated:
November 16, 2018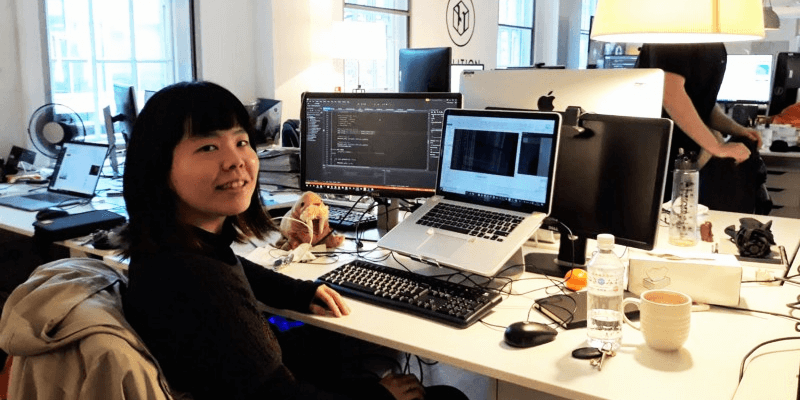 Makers alum Chiaki Mizuta
Makers alum Chiaki Mizuta was living in Japan before she decided to change her life. After moving to the United Kingdom, Chiaki decided to study coding with Makers and now works at Holition, an award-winning augmented reality studio in London.
---
Here she shares her story about moving across the world and never giving up on yourself.
Today, Chiaki enjoys a career that many aspire to: she works as a successful Software Engineer for an exciting company in the heart of London. It may be surprising to learn that Chiaki's path to success was anything but straightforward, and she overcame a number of difficult challenges on her journey toward a fulfilling career.
Chiaki's high school and college years are marked by a struggle with mental illness and her difficult search for a fulfilling career path. She became very ill in high school due to depression, and had to drop out entirely in order to focus on her health. She eventually went on to a university, but struggled there, too, particularly because she felt that she was not passionate about her chosen field of study.
Unfortunately Chiaki continued to face obstacles—several outside her control— as she tried to establish her career as a young adult. After university she became an English teacher, but was fired due to her depression. She was devastated but didn't want to give up on contributing to society, and eventually she started working in a kitchen at a supermarket.
"By that point, part of me had given up on working in a industry that values intellect," Chiaki says. "I had been depressed while everyone else seemed to have been making progress in their careers."
A New Start
Fortunately, Chiaki's kitchen job helped her discover a new passion and career path- baking. After regaining her health, Chiaki went on to land a job as a pastry chef in London. Chiaki was excited to start new with the move from Japan to London, which had been her big dream for many years.
She enjoyed making cakes but always wanted to go back to an intellectual career. She met her partner (a computer scientist), and later met a friend who had landed a job after going through the Makers Academy program.
"I decided to study programming on my own while I was working full time for a year," she said. "Going to Makers was a big decision — which turned out to be one of the best I've made in my life. I never wanted to give up on my own chance at happiness."
Rewriting Internal Dialogue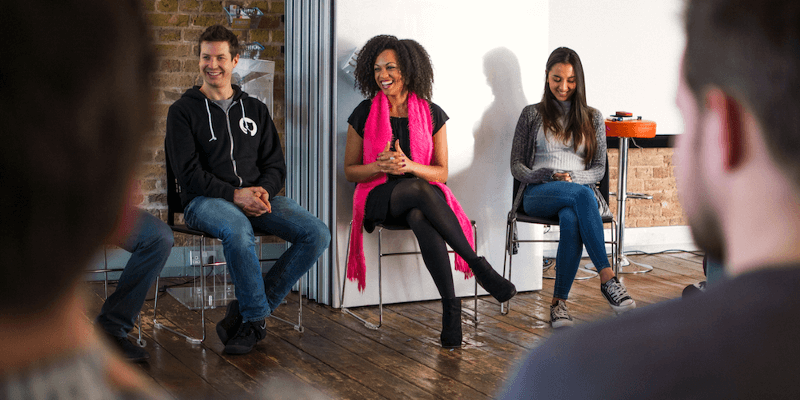 Makers Chief Joy Officer Dana Svoboda
Part of the Makers training process includes an emotional intelligence curriculum, led by Chief Joy Officer Dana Svoboda.
"Often Makers are too hard on themselves and they engage in negative self-talk which is meant as 'motivation,'" Dana shares.
When Dana advises Makers to be kinder to themselves, a natural fear crops up in them that they'll become lazy, or complacent.
"They wonder, 'If I'm kinder to myself, will I lose my edge?'" she says. "Understandably, it can feel counterintuitive to stop pushing themselves with tough self-talk, but positive self-talk actually improves performance."
Dana works with Makers like Chiaki through mindfulness training to catalyse their holistic development.
Never Giving Up
Chiaki now works for a company called Holition, who decided to sponsor her visa. As a junior R&D Software Engineer, Chiaki works on projects that help companies promote their brands via interactive marketing and the use of 3D virtual technology. Thanks to Holition's flat hierarchy, Chiaki has plenty of opportunity to take on interesting challenges and hone her creative problem-solving skills—just the type of career she'd been looking for.
"You always hear the phrase "never give up" but it's really true," Chiaki reflects. "You always have the power to create a better life for yourself."
"If you want to change your life, you can. You are the person responsible for making the change. Like many others, I know from my experiences that Makers is there to help you do just that. You really can change your future, no matter what your past looks like."
---
This is a sponsored post by Makers Academy.
Want to learn more about Makers? Visit Makers.tech or check out their reviews on SwitchUp.