2020 Best Cybersecurity Bootcamps
Top Schools: Rankings, Reviews, and Courses
By: SwitchUp
Last Updated: April 20, 2020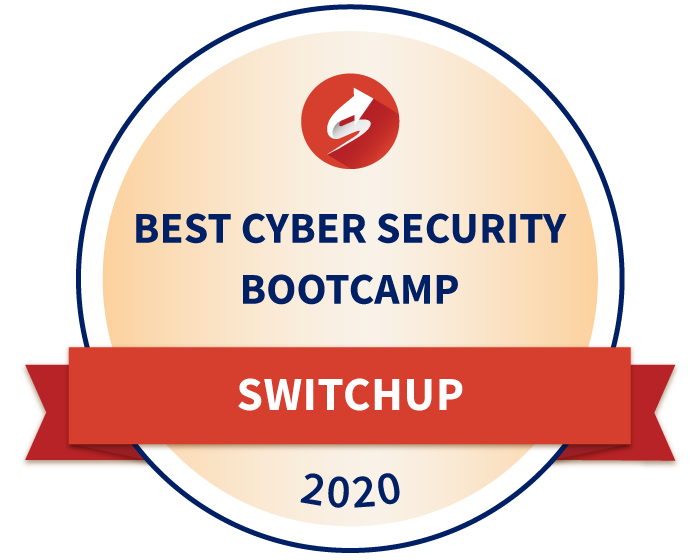 Careers in cybersecurity are on the rise, and the Bureau of Labor Statistics (BLS) reports that these jobs are expected to grow 32% by 2028. The number of cybersecurity bootcamps is increasing as well, with new program offerings that include cybersecurity analytics, cybersecurity engineering, and more. These bootcamps can give you the skills you need to land your first position in cybersecurity.
Our list of the best cybersecurity bootcamps will help you get started in this growing field. You can read more about the review-based rankings in our ranking methodology, or you can learn about the field of cybersecurity by checking out our FAQ section.
SwitchUp Rankings Methodology
SwitchUp's rankings are based on over 15,000 reviews from verified students and alumni, across over 500 bootcamps in operation. Both the total review score and review count were weighted, and an internal algorithm was used to determine the ranking order. Because student and alumni feedback are indicative of bootcamp quality, review score was assigned a higher weight than review count.
To be considered for the 2020 rankings, all bootcamps must help students land jobs in tech through excellent instructor support, curriculum, and career resources. Both part-time and immersive bootcamps are included on this list.
All bootcamp listed were required to have at least a 4/5 star rating at the time of publication. They also needed to meet the following requirements:
Best coding bootcamps: Offer an immersive or part-time coding course, and have at least 30 verified reviews at the time of publication.
Best data science bootcamps: Offer an immersive or part-time data science course, and have at least 10 verified reviews at the time of publication.
Best web design bootcamps: Offer an immersive or part-time web design course, and have at least 10 verified reviews at the time of publication.
Best cyber security bootcamps: Offer an immersive or part-time cyber security course, and have at least 10 verified reviews at the time of publication.
Best online coding bootcamps: Offer immersive or part-time courses that are completely online, and have at least 10 verified reviews at the time of publication.
Bootcamp Highlights
Looking for a school with specific qualities? We've awarded merit badges to schools in several key areas:
Available Online
School offers fully online courses
Verified Outcomes
School publishes a third-party verified outcomes report
Flexible Classes
School offers part-time and evening classes
Job Guarantee
School guarantees job placement
Frequently Asked Questions About Cybersecurity Bootcamps
What are the Best Cybersecurity Bootcamps of 2020?
Cybersecurity is one of the fastest growing careers in the nation, placing sixth on the BLS list of fastest-growing occupations. Last year, we had two top bootcamps, but there are now far more choices for students to review, so we expect our list to grow. Here are the two bootcamps that made our 2020 best cybersecurity bootcamps list:
With the projected growth, more cybersecurity bootcamps are being offered regularly. You can visit our comprehensive list of bootcamps that teach cybersecurity.
Why choose a cybersecurity bootcamp?
In 2019, CSIS released the results of a survey that showed a marked cybersecurity workforce gap. It stated, "82% of employers reported a shortage of cybersecurity skills," and "the number of unfilled cybersecurity jobs has grown by more than 50 percent since 2015." While getting any education in cybersecurity is beneficial, a bootcamp helps students gain job-ready skills through an immersive, focused, and comprehensive experience. It can be more affordable and allows you to gain in-demand skills in a shorter amount of time than a degree. Bootcamps are often hands-on, which allows the students to get a real-world taste of what a job in cybersecurity will look like.
What will you learn in a cybersecurity bootcamp?
Programs range from a more general cybersecurity bootcamp to something more focused like a cybersecurity analyst bootcamp or cybersecurity engineer bootcamp. Cybersecurity programs help students learn all the skills necessary to transition into the information security business. Successful bootcamps offer the following variety of courses: ethical hacking, web applications, computer programming and system administration, advanced coding languages, and risk assessments that focus on threat mitigation and vulnerability detection. These bootcamps seek to help you think and act like a hacker with a willingness to explore loopholes and backdoors in computer programs and network systems.
Will a cybersecurity bootcamp prepare me for a certification exam?
Cybersecurity bootcamps will vary in what they teach, so it's crucial to look for a program designed to fit your goals. There are certification exams for cybersecurity specialists, and some bootcamps will cover the topics you'll need to take them. In general, more basic bootcamps will prep you for CompTIA's Security+, which is a global certification that shows you have the baseline cybersecurity skills necessary to perform core security functions. Bootcamps that are more comprehensive may include preparation for (ISC)²'s Systems Security Certified Practitioner (SSCP) or Certified Information Systems Security Professional (CISSP).
How to prepare for a cybersecurity bootcamp?
The decision to commit to a bootcamp is a big one; they can last anywhere from 10-35 weeks. The first step in preparing for a cybersecurity bootcamp is to identify your life and career goals. Look for programs that offer a curriculum that will support the type of job you're interested in. It's also important to weigh everything from cost and time commitment to learning environment. Decide whether you'll attend a bootcamp in-person or online. Once you've decided on a program, research the best ways to prepare. Many bootcamps offer preparatory courses to help students cover basic skills and gear up for the demanding coursework. For bootcamps that do not offer these preparatory courses, there are online courses available, including those on learning platforms like Coursera, Udemy, and Udacity.
Are cybersecurity bootcamps worth it?
Yes, cybersecurity bootcamps are worth it. This fast-growing industry has a very strong and positive job outlook; people who have cybersecurity training are highly sought after. If you are someone who will thrive in the types of jobs cybersecurity has to offer, it is an excellent career to pursue at this time.
What does a career in cybersecurity look like?
Cybersecurity is a broad technical field that ranges from data mining to procedural cryptography. Although their specific job responsibilities may differ, all cybersecurity professionals aim to ensure the safety of web-based systems and other computerized networks. Some of the most sought-after titles include cybersecurity specialist, cybersecurity analyst, cybersecurity consultant, cryptographer, and chief information security officer (CISO).
What is the job outlook for cybersecurity?
According to the BLS, cybersecurity is one of the fastest-growing industries in the nation. The industry's rapid market growth is being fueled by an array of technology trends and security challenges. The world has become increasingly connected through web-based platforms, and as demand for information safeguarding increases, the supply of available cybersecurity professionals will have to match that need.
From data breaches to cyberattacks, businesses can't put out the fires soon enough. Findings published by the Official Annual Cybercrime Report show that cybercrime damages will reach upward of $6 trillion by 2021. Industry experts suggest that this will require more cybersecurity professionals; job forecasts have been unable to predict with this dramatic increase in cyberattacks. Without enough people to fill these positions, the job outlook for cybersecurity offers excellent career potential.