2020 Best Cyber Security Bootcamps
Top Schools: Rankings, Reviews, and Courses
By: SwitchUp
Last Updated: April 20, 2020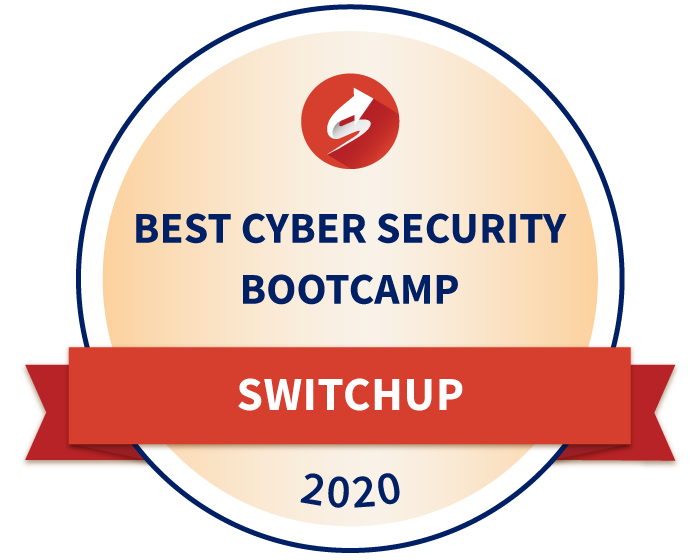 Our list of the best cyber security bootcamps will help you get started in this growing field. The reviews-based rankings weigh curriculum, instructor quality, job outcomes, and other factors, which you can read about in our ranking methodology.
Careers in cyber security are on the rise, and the Bureau of Labor Statistics reports that these jobs are expected to grow 32% by 2028. A bootcamp will give you the skills to land your first role as a as a cyber security specialist. To learn more, check out our expert advice on getting started in cyber security.
Bootcamp Highlights
Looking for a school with specific qualities? We've awarded merit badges to schools in several key areas:
Available Online
School offers fully online courses
Verified Outcomes
School publishes a third-party verified outcomes report
Flexible Classes
School offers part-time and evening classes
Job Guarantee
School guarantees job placement
Your Guide to Starting a Cyber Security Bootcamp
As demand for information safeguarding increases, the supply of available cyber security professionals needs to match that need; from data breaches to cyberattacks, businesses can't put out the fires soon enough.
Cyber security bootcamps teach students how to protect networks and data from compromised programs and undetected breaches. Below is a comprehensive manual to help potential cyber security professionals learn more about the field. Our expert knowledge will help you delve into information security and prepare you for a future career in cyber security.
Industry Overview
The world has become increasingly connected through web-based platforms. As safeguarding data becomes an important part of any business' security plan, demand in the cyber security market has grown significantly. According to the Bureau of Labor Statistics, information-related careers are expected to grow by upward of 37 percent by 2022, and cyber security is one of the fastest-growing industries in the nation.
The industry's rapid market growth is being fueled by an array of technology trends and security challenges. Findings published by the Official Annual Cybercrime Report show that cybercrime damages will reach upward of $6 trillion by 2021. Industry experts suggest that this will necessitate an increase in cyber security professionals, as job forecasts have been unable to keep pace with this dramatic increase in cyberattacks.
CyberSeek estimates over 240,000 cyber security-related jobs go unfulfilled in the United States every year. Meanwhile, only 29 percent of advisers in a Financial Planning Association study agree that they are fully prepared to mitigate associated cyber security risks. Until the market can meet this need, cyber security professionals will continue to be in high demand.
With a comprehensive, cost-effective bootcamp program, you can start your journey into one of 2020's most important, lucrative industries.
How to Choose the Best Cyber Security Bootcamp
Cyber security bootcamps offer the chance to learn all the skills necessary to transition into the information security business. Successful bootcamps offer the following variety of courses: ethical hacking, web applications, computer programming and system administration, advanced coding languages ranging from C++ and Java to PHP and Python, and risks assessments that focus on threat mitigation and vulnerability detection. Essentially, these bootcamps seek to help you think and act like a hacker with a willingness to explore loopholes and backdoors in computer programs and network systems.
To select the best cyber security bootcamp for you we suggest you explore their mission write-up and choose the one that is most suitable for your learning style. From mentor-driven programs to project-based, hands-on learning experiences, bootcamps offer everything. For those interested in on-site bootcamps, there are information sessions where you can visit the campus and talk to students and instructors. These often lead to mentorship opportunities and can help you join the cyber security field as an expert ready to tackle progressively advanced information security concerns.
How to Prepare for a Cyber Security Bootcamp
Once you've decided on a program, ensure you're well-prepared to begin. Bootcamp programs offer preparatory courses to help students refresh old skills and gear up for the demanding coursework. For bootcamps that do not offer these preparatory courses, massive open online courses, known as MOOCs, can be accessed through free platforms like Coursera, Udemy, and Udacity.
The decision to commit to a bootcamp is a big one; they can last anywhere from 10 weeks to upward of 35. It's important to weigh everything from cost and time commitment to learning environment. Programs like Evolve Security Academy or SecureSet Academy offer immersive, fully online cyber security programs. Springboard and WozU also offer rigorous online security training for those unable to attend traditional, in-person bootcamps. There are flexible options for every type of learning preference.
Cyber Security Jobs Overview
Cyber Security is a broad technical field that ranges from data mining to procedural cryptographing. Although their specific job responsibilities may differ, all cyber security professionals aim to ensure the safety of web-based systems and other computerized networks. This list includes some of the most sought-after positions in the cyber security world to give you a glimpse of what a career in this industry can lead to:
Cyber Security Specialist: A general position for cyber security professionals, this job designs, tests, implements, and monitors virtual security systems. These professionals also devise policies and tactics to better combat potential breaches. The job site Glassdoor estimates an annual average salary of $67,620.
Cyber Security Analyst: These cyber security professionals help carry out security measures by analyzing organizational computer networks and systems. Average salary: $91,015
Cyber Security Consultant: With an average salary of $85,677, this career choice is reserved for senior-level cyber security specialists. Professionals in this position often work independently, and coordinate with businesses and organizations about their specific security needs.
Cryptographer: They create code to help agencies solve security concerns and mitigate potential attacks through erudite computational models and the algorithmic encryption and decryption of information. This is a mid-to-senior level position that ranges from government agencies to private enterprises, and the Bureau of Labor Statistics estimates an average salary of $112,560.
Chief Information Security Officer (CISO): As the most senior level cyber security position, CISOs provide write-ups for security measures that concern the overall safekeeping of an organization's data. They manage teams of cyber security professionals who handle organizational data security concerns. According to industry estimates, the average CISO salary is currently $204,000.
Attending a cyber security bootcamp will help you gain the skills necessary to safeguard public or private sector security networks. Use SwitchUp's list of the Best Cyber Security Bootcamps to get started, or search all cyber security courses in the SwitchUp directory. Both resources offer comprehensive lists of online and on-site cyber security programs that offer immediate certification upon completion. Let SwitchUp help you start your cyber security career search today.
SwitchUp Rankings Methodology
SwitchUp's rankings are based on over 15,000 reviews from verified students and alumni, across over 500 bootcamps in operation. Both the total review score and review count were weighted, and an internal algorithm was used to determine the ranking order. Because student and alumni feedback are indicative of bootcamp quality, review score was assigned a higher weight than review count.
To be considered for the 2020 rankings, all bootcamps must help students land jobs in tech through excellent instructor support, curriculum, and career resources. Both part-time and immersive bootcamps are included on this list.
All bootcamp listed were required to have at least a 4/5 star rating at the time of publication. They also needed to meet the following requirements:
Best coding bootcamps: Offer an immersive or part-time coding course, and have at least 30 verified reviews at the time of publication.
Best data science bootcamps: Offer an immersive or part-time data science course, and have at least 10 verified reviews at the time of publication.
Best web design bootcamps: Offer an immersive or part-time web design course, and have at least 10 verified reviews at the time of publication.
Best cyber security bootcamps: Offer an immersive or part-time cyber security course, and have at least 10 verified reviews at the time of publication.
Best online coding bootcamps: Offer immersive or part-time courses that are completely online, and have at least 10 verified reviews at the time of publication.
Merit Badges
SwitchUp has awarded merit badges to bootcamps that stand out in key areas. To be considered for a merit badge, bootcamps were required to meet the following criteria:
Available Online: Offer either part-time or immersive courses that are fully online.
Verified Outcomes: Offer a job outcomes report that was independently verified by a third-party auditor.
Flexible Classes: Offer part-time and evening classes
Job Guarantee: Offer guaranteed job placement after graduation, or the student's tuition is refunded.