2021 Best Data Analytics Bootcamps
3 Top Schools: Rankings, Reviews, and Courses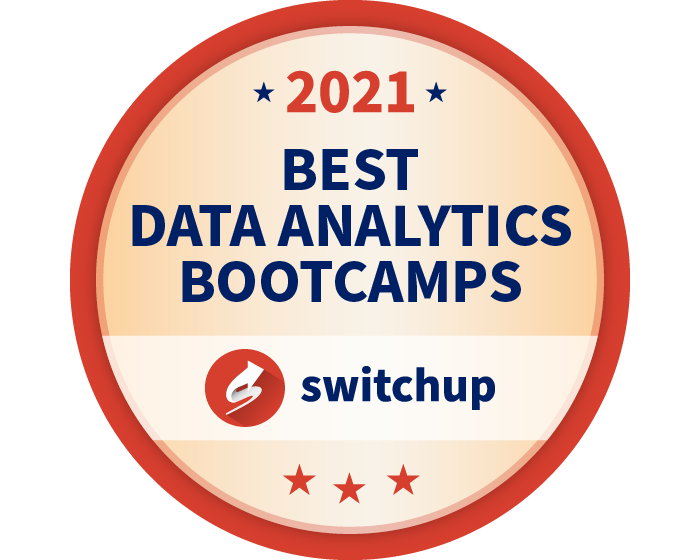 Given that data analytics and other technology jobs have been leading the way in the U.S. economy's recovery since the coronavirus pandemic began, many job-seekers are looking for opportunities to quickly leverage their knowledge and experience into lucrative new careers. A data analytics bootcamp can be an effective path to achieving that objective. Especially for those with a background in math or statistics, data analytics bootcamps will enable students to combine their passion for numbers and patterns with specific, sought-after tools and skills, giving them the ability to evaluate data sets and perceive the kind of useful insights used in business decision making today.
Our dedication to tracking bootcamps since 2014 has made SwitchUp a reliable resource for people looking for the best bootcamps. Every option on our ranked list of data analytics bootcamps, below, has been thoroughly vetted by at least 10 students, and only those that have earned a minimum 4 out of 5 stars have made the list. Click here to see our full methodology or discover more about data analytics bootcamps and careers here.
Frequently Asked Questions About Data Analytics Bootcamps
What is data analytics?
Data analytics is a growing field that helps industries and organizations make sense of patterns. Data analysts work with numbers to understand trends, transforming massive amounts of information into digestible conclusions. The field is vast and dynamic, meaning that data analysts apply their skills in varied ways. People in these roles may work for businesses to increase revenue, for government agencies to understand a given pattern or to improve efficiency, or for hospitals to make sense of trends, among other applications.
What is the difference between data analytics and data science?
Data analytics and data science are similar fields, but different in scope. Data analysis focuses on using existing information to answer targeted questions, and helps companies make informed decisions. Data science requires looking at the big picture and asking questions based on data to provide useful insights and overall trends. Data science usually happens at the macro-level and involves thinking of ways to better review and utilize information. Data analysis happens at the micro-level, and involves using information to solve problems, answer questions, or make decisions. Check out our list of the best data science bootcamps for more information on data science.
What jobs can you get in data analytics?
A comprehensive understanding of data analytics can be applied in a wide variety of settings. Data analysts are needed in many sectors, and salaries can range depending on the position and industry. On average, entry-level data analysts make $63,355 per year, according to salary data from Glassdoor. Data analysts are also well-suited for positions in the business, healthcare, marketing, and finance industries. Depending on the role and level of seniority, working in the financial sector may be the most lucrative. Financial analysts make an average of $81,590 per year, followed by business analysts, who earn $68,346 per year on average. Market research analysts make $63,790 per year, while health data analysts make an average of $62,592 per year.
How can you get into data analytics?
Data analysts need a solid foundation in working with numbers, and often have backgrounds in mathematics or statistics. However, there are a range of other skills that are important for the position, such as visual data presentation and communication skills. While many analysts have degrees in finance, economics, computer science, or business, this is not necessary to break into the field. Experience in marketing or other communications fields, for example, can benefit those considering a career as a data analyst. Earning a degree in data science, business analysis, or a related field is a direct way to enter the industry. Many people also take advantage of data analysis bootcamps, which are a much shorter and more affordable method of learning hard skills necessary for the role. This is a good option for those who want to pivot into data analysis from another position or field.
Are data analytics bootcamps worth it?
Data analytics bootcamps are a great choice for those who are interested in gaining targeted useful skills in the field. They are faster and often much more affordable than pursuing a degree, and allow students to learn key skills and tools applicable to positions in today's industry. Most bootcamps provide job support and help students find positions within the industry, making the investment worthwhile for many. Data analytics bootcamps can cost anywhere between $1,800 and $13,245, and take up to sixth months to complete. There are shorter, more affordable mini bootcamps available for students interested in learning specific skills and programs as well. Data analytics bootcamps are a good option for those looking to transition to a new field or position without pursuing a full degree, but they are often a significant financial and time commitment. Students should consider what their goals and prior commitments are and weigh the options available when deciding if a bootcamp is right for them.
What will you learn in a data analytics bootcamp?
Data analytics bootcamps teach a combination of technical and business skills needed to successfully work with, evaluate, present, and explain data sets. Students will learn how to use tools such as Excel, SQL, Python, and Tableau to collect and analyze data to drive insights. Learning how to use these tools effectively is critical, as securing a position in the industry will be extremely difficult or impossible without these skills. Some programs focus on teaching key business statistics concepts, while others combine elements of data analytics and programming. Examples of bootcamp subjects include machine learning, data visualization, statistics and probability, and data mining. Programs also often give students the opportunity to work closely with a mentor from the industry and create a professional portfolio to help them pursue positions in the field post-graduation.
SwitchUp Rankings Methodology
SwitchUp's rankings are based on over 20,000 reviews from verified students and alumni, across over 500 bootcamps in operation. Because student and alumni feedback and ratings are indicative of bootcamp quality, rankings are ordered by review score. If bootcamps have the same review score, bootcamps with more reviews are ranked higher to break the tie. The order of the ranking is based on data at the time of publishing, but the ratings and review counts will change as more reviews come in.
To be considered for the 2021 rankings, bootcamps must help students land jobs in tech through excellent instructor support, curriculum, and career resources; each review left on SwitchUp evaluates the bootcamp on all of these aspects.
All bootcamps listed in the best data analytics ranking were required to meet the following criteria at the time of publication:
Offer an immersive or part-time data analytics program
Have at least 10 verified reviews of data analytics programs
For those data analytics program reviews, average at least 4/5 stars
Please see our full ranking methodology to see requirements for other rankings.
Bootcamp Highlights
Looking for a school with specific qualities? We've awarded merit badges to schools in several key areas:
Available Online
Offer either part-time or immersive courses that are available online. This includes courses that are offered temporarily online due to COVID-19.
Verified Outcomes
Offer a job outcomes report that was independently verified by a third-party auditor.
Flexible Classes
Offer self-paced, part-time, or evening classes.
Job Guarantee
Offer guaranteed job placement after graduation, or the student's tuition is refunded. Visit the official school site for related terms and conditions.
VET TEC Provider
Approved as a VET TEC Provider according to the U.S. Department of Veteran Affairs.