2020 Best Coding Bootcamps
50 Top Schools: Rankings, Reviews, and Courses
By: SwitchUp
Last Updated: April 20, 2020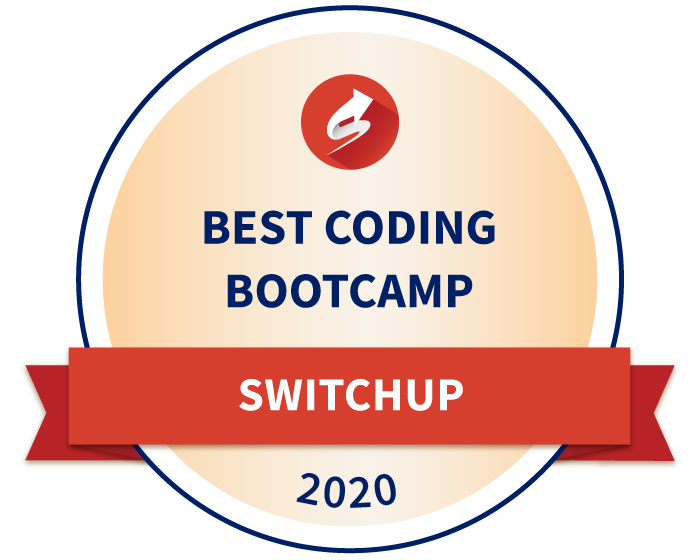 SwitchUp's 2020 Best Coding Bootcamps ranking covers the 50 best coding bootcamps in the world, based on thousands of verified alumni reviews we've collected in the past year. Our list highlights each bootcamp's location, curriculum, and other criteria to help you find the ideal coding bootcamp program for you.
SwitchUp has been a trusted bootcamp resource since 2014, and we believe that alumni reviews are crucial to a student's decision. Please see our ranking methodology to learn more about the creation of our 5th annual rankings.
To find answers to common coding bootcamp questions or learn about bootcamp costs, length, and more, jump to our FAQ section.
SwitchUp Rankings Methodology
SwitchUp's rankings are based on over 15,000 reviews from verified students and alumni, across over 500 bootcamps in operation. Both the total review score and review count were weighted, and an internal algorithm was used to determine the ranking order. Because student and alumni feedback are indicative of bootcamp quality, review score was assigned a higher weight than review count.
To be considered for the 2020 rankings, all bootcamps must help students land jobs in tech through excellent instructor support, curriculum, and career resources. Both part-time and immersive bootcamps are included on this list.
All bootcamp listed were required to have at least a 4/5 star rating at the time of publication. They also needed to meet the following requirements:
Best coding bootcamps: Offer an immersive or part-time coding course, and have at least 30 verified reviews at the time of publication.
Best data science bootcamps: Offer an immersive or part-time data science course, and have at least 10 verified reviews at the time of publication.
Best web design bootcamps: Offer an immersive or part-time web design course, and have at least 10 verified reviews at the time of publication.
Best cyber security bootcamps: Offer an immersive or part-time cyber security course, and have at least 10 verified reviews at the time of publication.
Best online coding bootcamps: Offer immersive or part-time courses that are completely online, and have at least 10 verified reviews at the time of publication.
Bootcamp Highlights
Looking for a school with specific qualities? We've awarded merit badges to schools in several key areas:
Available Online
School offers fully online courses
Verified Outcomes
School publishes a third-party verified outcomes report
Flexible Classes
School offers part-time and evening classes
Job Guarantee
School guarantees job placement
Frequently Asked Questions About Coding Bootcamps
What are the 10 best coding bootcamps of 2020?
Our top 10 best coding bootcamps of 2020 have hundreds of alumni reviews. The average score for these bootcamps is 4.7 out of 5. Each coding program offers a comprehensive curriculum of real-world skills, and many bootcamps also foster a strong support community. The top 10 coding bootcamps are:
What is a coding bootcamp?
A coding bootcamp is an intensive program that teaches people how to code in a short amount of time. It can be a more affordable alternative to a degree, and it helps build practical and professional skills. The average length of a coding bootcamp is typically between 3-6 months, but coding bootcamps can be shorter or longer; there are programs that can last for a couple of years. Bootcamps generally offer a curriculum that includes popular programming languages, and their goal is for graduates to master in-demand skills and land a job.
Is coding hard to learn?
We frequently see the question, is a coding bootcamp hard? Coding has a stigma of being extremely difficult, but anyone can learn; it just takes effort and time. A great way to learn is through a coding bootcamp, where you will receive a lot of practice and can ask instructors and classmates questions if you get stuck. However, before you enroll in a bootcamp, it could be beneficial to take a prep course to learn some of the basics.
Are coding bootcamps worth it?
The short answer is yes. Coding bootcamps are intensive programs that reduce the amount of time it takes to learn career-ready skills and are often more affordable than a 4-year computer science degree. While you still have to invest time, money, and intensive focus into coding bootcamps, they can increase your career opportunities and your salary potential in a shorter period of time than it takes to earn a bachelor's degree. A 2018 SwitchUp survey of 1,500 bootcamp graduates found that upon finishing a bootcamp, 80.9% of alumni were employed, and 71.0% of those employed respondents were working full-time. You can learn more about if coding bootcamps are worth it here.
Should you go to a coding bootcamp?
Attending a coding bootcamp is a personal decision. However, coding bootcamps often demand intensive focus and time, so it's crucial to understand what it entails and is important to find a bootcamp that meets your needs. When deciding which coding bootcamp is right for you, you should look into whether programs are in-person or online, are part-time or full-time, provide financial assistance or deferment of some kind, and offer topics that interest you. Some programs, like GA Dash or Flatiron's Free Coding Bootcamp Prep, offer free coding courses to get a sample of what you'll experience. An online coding course can give you insight as well.
How do you choose a coding bootcamp?
When choosing a coding bootcamp, consider your lifestyle and goals. Identify your goals by asking questions like: what is my dream job, where do I want to work, and how much time and finances can I invest right now? After you understand your goals, research bootcamps that meet your needs. Some things to look at are their student reviews, outcomes, location, duration, and teaching style. For more information, read Your Guide to Choosing a Bootcamp: A Checklist or use our "Get Matched" tool to get started.
How much is a coding bootcamp?
The cost of a coding bootcamp will vary, but on average, it ranges between $5,000 - $17,000. There are several ways to pay for tuition. Some students will pay costs upfront, but you have the option to finance your education too. Bootcamps also might offer financial aid and scholarships, and it's becoming more common for bootcamps to offer ISA's or deferred tuition.
Where can I learn to code for free?
If you want to learn to code for free, there are several bootcamps, courses, and online resources that allow you to acquire coding skills in either an educational setting with assistance or at your own pace. For in-depth information on how to learn to code for free, read our Free Coding Bootcamp Guide.
Do companies hire from coding bootcamps?
Startups and big companies such as Google, Amazon, Microsoft, and Twitter do hire coding bootcamp graduates. Surveys have shown that employers have a favorable view of coding bootcamps, and our own data supports that alumni find careers in the tech field after graduation. If your goal is to land a new job in tech, then you should research programs that are known for having relationships with companies or that offer career support or have a job placement guarantee. You will still need to do the prep work and apply for positions, but attending a bootcamp with strong job support will give you an advantage. Job climates and availability where you live will influence how readily you find a position in the tech field as well.
Are software engineers in demand?
While the U.S. Bureau of Labor Statistics (BLS) shows a slight decline in job outlook, software developers and engineers are still very much in demand. Software developers and engineers that stay on top of industry trends and skills will likely be able to secure work. People can also increase their employability with strong, in-demand skills, a quality portfolio, and solid interview abilities. Coding and programming bootcamps can help increase these skills.
Choosing the right bootcamp for you
It's not always clear where to start when choosing the best bootcamp for you. Our Get Matched tool was designed to give you a place to begin. Based on the information you provide, we match you with a highly-rated bootcamp, and that bootcamp will reach out to you to answer any questions you have and see if they can meet your needs.