2020 Best Coding Bootcamps
50 Top Schools: Rankings, Reviews, and Courses
By: SwitchUp
Last Updated: April 20, 2020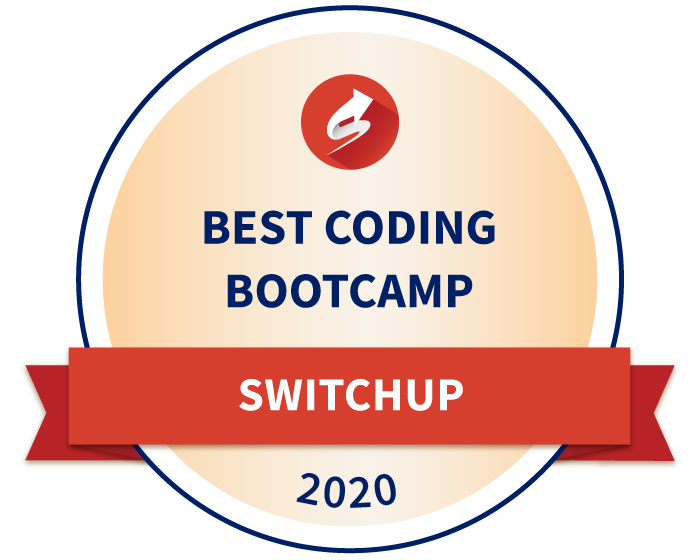 SwitchUp's fifth annual rankings cover the 50 best coding bootcamps in the world, based on the thousands of alumni reviews and data points we've collected in the past year. This list highlights subjects, location, job outcomes, and several other criteria to help you find the perfect school.
SwitchUp has been a trusted bootcamp resource since 2014, and we know that alumni reviews are crucial to a student's decision. That's why ours is the only rankings list based primarily on review scores from verified alumni. Please see our ranking methodology to learn more about the creation of this list.
Bootcamp Highlights
Looking for a school with specific qualities? We've awarded merit badges to schools in several key areas:
Available Online
School offers fully online courses
Verified Outcomes
School publishes a third-party verified outcomes report
Flexible Classes
School offers part-time and evening classes
Job Guarantee
School guarantees job placement
Why Attend a Coding Bootcamp?
If you are looking to gain tech skills or begin a completely new career, a bootcamp education could be the perfect springboard to help achieve your goals. Coding bootcamps are intensive training programs that give students the practical knowledge they need to land a role in software engineering, web development, or mobile development. While most bootcamps are located within the United States, the model is growing in popularity around the world. Bootcamps are typically 3 to 6 months in length, and cost about $10,000 on average.
While bootcamps are certainly less of an investment than a traditional 4-year degree, many students wonder if they can offer a sufficient Return on Investment (ROI). According to SwitchUp's 2018 survey of over 1,500 bootcamp graduates, students saw an average 45.6% salary increase compared to previously held jobs, and 71% of bootcamp alumni acquired a full-time position.
We also found that coding bootcamp alumni enjoy an average $19,485 salary increase after graduating from a program, and 43.65% of respondents reported a substantial salary increase of $10,000 or more. Additionally, half of coding bootcamp graduates were employed within 60 days of finishing a bootcamp program, including over 10% of graduates who were offered a job before their program ended.
Other benefits of coding bootcamps include:
Flexibility: Many bootcamps offer courses online, as well as self-paced, part-time, and evening classes to work around student schedules.
Mentorship: Bootcamps frequently include tutoring and support through one-on-one mentorship. This is especially common with online bootcamps.
Career Advancement: Many bootcamps offer career services such as networking opportunities, job interview prep, hiring sessions, and career coaching after graduation.
Cost & Length: Bootcamps are typically shorter and less expensive than traditional degree programs.
Hands-On Education: Compared to many higher education options, bootcamp courses offer more opportunities for hands-on learning. They also give students experience with industry-relevant tools and technology.
Job Placement: Many of the best bootcamps guarantee job placement upon completion, or boast high job placement rates.
The 10 Best Coding Bootcamps of 2020
SwitchUp's list of the 50 Best Coding Bootcamps is based on thousands of alumni reviews covering curriculum, job support, price range, location, job outcomes, and overall quality. Out of 50 top schools, the following are the 10 highest-rated bootcamps of 2020:
---
Bootcamps have helped thousands of students build coding careers, and our comprehensive guide can help you determine if this model may be the best educational option for you. Below, you'll find answers to frequently asked questions about coding bootcamps, an overview of factors to consider, and checklists to help you prepare for the application process. Read on to learn more, or check out SwitchUp's blog for more resources.
Industry Overview
The first coding bootcamp was introduced in 2011 in response to growing demand for skilled software engineers. Today, the industry has expanded to include hundreds of programs around the world, with many options to accommodate varying budget, length, and curriculum preferences. Bootcamps typically focus less on theory and more heavily on the hard skills necessary for modern software development. Necessary skills can include languages and technologies like Object Oriented Programming, Javascript, Ruby, Github, and APIs.
As the industry matures, more schools are using data from student reviews and reported job outcomes to deliver better value programs. Established schools have now graduated several classes, and they are using student feedback, reviews, and job placement data to improve curriculum and introduce new courses. The result is that the quality of highly-rated bootcamps now rivals many top computer science programs. As a testament to the value and job placement statistics of bootcamps, our survey revealed that 92.97% of coding bootcamp alumni would recommend their program to a friend.
Do Companies Hire Coding Bootcamp Graduates?
Many students wonder if a bootcamp can really help them land a software development job, especially when competing against candidates with computer science degrees. It may come as a surprise that, for most employers, a candidate's educational background is typically far less important than their portfolio and demonstrated skill set.
In fact, a recent Indeed survey of over 1,000 HR managers shows that 72% of respondents consider bootcamp grads to be just as prepared and just as likely to perform at a high level as computer science grads.
What's more, bootcamps help students develop skills that are highly valuable and relevant to fast-growing tech companies. In an interview with NexGen technologies, Technical Manager Steve Lute noted that bootcamp students have qualities like time management, ability to work well under pressure, problem solving, quick thinking and a drive to succeed. Kevin Boer, a hiring manager for Leapfrog Online, also notes that the diversity of bootcamp grads has been a game changer for the industry and for Leapfrog's hiring practices.
As Kevin explains, "We recently evolved our hiring practices to have more of a focus on diversity and inclusion. This is partly because the entire industry is evolving and it's the right thing to do. But it's partly because of bootcamps. Bootcamp graduates have over twice the diversity of university Computer Science graduates — that's a great thing for us and the industry."
How to Know If a Coding Bootcamp Is Right for You
At SwitchUp, we have found that there are a few factors students should consider when determining if a bootcamp is right for them.
Time Commitment: Depending on the structure of the program, a coding bootcamp can require as little as 10 hours per week, or as many as 60 hours or more. Succeeding in a coding bootcamp requires discipline, so students should strongly consider their personal schedule and commitments outside of school before making any decisions. Fortunately, many schools have recognized the need for flexibility, and there are now several bootcamp formats to choose from:
Full-Time, Immersive Program: This format typically requires 40-60 hours per week and operates as high-intensity, short-term training. It fully immerses students for 3-6 months to ensure job readiness as quickly as possible.
Part-Time, Immersive Program: This option can be just as rigorous as a full-time immersive program, but classes are held during the evening or on weekends. This type of learning allows students to maintain a full-time job while completing coursework.
Hybrid Learning Program: Hybrid learning programs allow students to learn partially online and partially in the classroom. Schools like Designation allow students to take preparatory courses remotely and finish with a 12-week, in-person program at their campus in Chicago.
Part-Time Flex Program: Students can move through this program type at their own pace and according to their unique learning schedules. This type of learning provides the most flexibility for individuals with full-time jobs or family commitments.
Learning Goals: Before committing to a program, it is important to set clear, realistic expectations for both your education and future career. Be sure to take stock of what you wish to gain from the program and your career goals after graduation. We recommend that you prepare in the following ways:
Make sure there is a solid job market for the career you want. Demand for different types of coding jobs can vary by region, so it's important to ensure that opportunities are available in the city where you'll be job searching after graduation.
Take an online preparatory course before committing to an immersive program. This will help you make sure that coding is the best career fit for you.
Understand the mission of different bootcamps and make sure their goals are aligned with yours. Some bootcamps are focused more on job placement, while others focus on helping students develop advanced skills for an existing career.
Carefully review the curriculum for your potential coding bootcamp. If there is a particular coding language that you are interested in mastering, make sure it is a core focus of your intended program. If you have questions, reach out to a career advisor to discuss your goals.
Consider the program's student-to-teacher ratio. Bootcamps are very fast-paced, and it is key to have the right amount of support, mentorship, and accountability from instructors. Many students have found that coding schools with large, lecture-style classes sometimes do not provide the right level of individualized support. If you think this might be an issue, reach out to your program to learn more about class sizes and the number of staff who will be available.
Choosing The Best Bootcamp For You
The coding bootcamp industry offers many choices, and it can feel difficult to hone in on your top priorities. To help cover all your bases, we've compiled a series of checklists that can help you research bootcamps and identify the best options.
Still not sure how to choose the best program for you? Check out SwitchUp's Matching Tool! We'll match you with a top-rated bootcamp based on your criteria.
Remember, a school's success is measured by the success of its students. Your coding bootcamp's top priority should be to help you master the basics, learn essential problem solving skills, and, ultimately, land your dream career in tech.
SwitchUp Rankings Methodology
SwitchUp's rankings are based on over 15,000 reviews from verified students and alumni, across over 500 bootcamps in operation. Both the total review score and review count were weighted, and an internal algorithm was used to determine the ranking order. Because student and alumni feedback are indicative of bootcamp quality, review score was assigned a higher weight than review count.
To be considered for the 2020 rankings, all bootcamps must help students land jobs in tech through excellent instructor support, curriculum, and career resources. Both part-time and immersive bootcamps are included on this list.
All bootcamp listed were required to have at least a 4/5 star rating at the time of publication. They also needed to meet the following requirements:
Best coding bootcamps: Offer an immersive or part-time coding course, and have at least 30 verified reviews at the time of publication.
Best data science bootcamps: Offer an immersive or part-time data science course, and have at least 10 verified reviews at the time of publication.
Best web design bootcamps: Offer an immersive or part-time web design course, and have at least 10 verified reviews at the time of publication.
Best cyber security bootcamps: Offer an immersive or part-time cyber security course, and have at least 10 verified reviews at the time of publication.
Best online coding bootcamps: Offer immersive or part-time courses that are completely online, and have at least 10 verified reviews at the time of publication.
Merit Badges
SwitchUp has awarded merit badges to bootcamps that stand out in key areas. To be considered for a merit badge, bootcamps were required to meet the following criteria:
Available Online: Offer either part-time or immersive courses that are fully online.
Verified Outcomes: Offer a job outcomes report that was independently verified by a third-party auditor.
Flexible Classes: Offer part-time and evening classes
Job Guarantee: Offer guaranteed job placement after graduation, or the student's tuition is refunded.