2021 Best Product Management Bootcamps
5 Top Schools: Rankings, Reviews, and Courses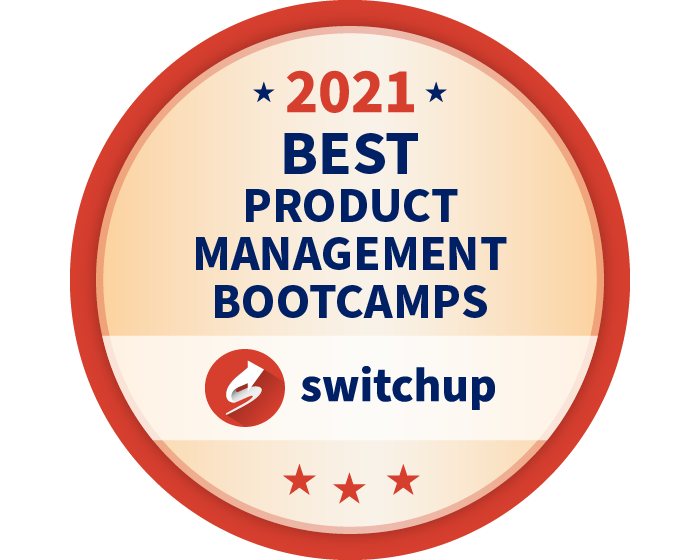 While many industries are still feeling the impact of the coronavirus pandemic, technology jobs—including product management jobs—are leading the way in the recovery. Motivated job-seekers, especially those with business or engineering backgrounds and strong analytical and problem-solving abilities, may find that their best bet for leveraging their knowledge into a tech job is training for a product management role, with no programming required! For those who'd like to enhance their resumes with some additional training without going back to school, a product management bootcamp just may be the solution. Since we started ranking bootcamps in 2014, SwitchUp has become a trusted source for identifying the bootcamp options that best meet people's personal and professional needs.
Every option on our ranked list of product management bootcamps, below, has been reviewed by at least 10 students, and only those that have earned an average of 4 out of 5 stars or better have made the list. Click here to see our full methodology or continue reading for more information about educational and career opportunities in product management.
Frequently Asked Questions About Product Management Bootcamps
What is product management?
From developing strategic product plans to analyzing data after a launch, product managers, or PMs, oversee the creation and continuous improvement of a product. They act as the middleman between the engineering, design, sales, and marketing teams to develop, launch, and enhance products, optimizing for efficiency and user experience. Strong communication, prioritization, and leadership skills are critical for the position as PMs need to work with internal teams, stakeholders, and end-users to create the best product possible. Product management also requires a solid technical foundation, which you can learn on the job if you have the other qualities companies seek for the position.
How much do product managers make?
According to data from Glassdoor and Payscale, the national average salary for PMs range from $96,512 to $108,992 per year. However, salaries can vary based on where a product manager is employed and their job title or seniority.
For example, senior product managers make $123,895 per year on average, whereas entry-level positions such as assistant product managers make $84,766 per year, according to data from Glassdoor.
Product manager salaries vary throughout the country, depending on the cost of living and other factors. Here are some average salaries in cities across the U.S., according to Glassdoor:
San Francisco: $129,387 per year
Seattle: $118,976 per year
New York City: $106,587 per year
Minneapolis: $102,846 per year
Detroit: $100,380 per year
Baltimore: $99,925 per year
Phoenix: $94,450 per year
How can you get into product management?
There is no set path to become a PM; people take a variety of routes to get there. Companies seek applicants with different backgrounds depending on the scope of their product, the size of their team, and other factors. Hiring managers may look for strong business skills, familiarity with their sector, technical expertise, or a combination of these qualifications. Big tech companies often seek applicants with backgrounds in engineering, design, and analytics when hiring PMs. A bachelor's degree in business, communications, or management may also be useful for obtaining a position.
While you can break into the field without pursuing specialized training, Product Management bootcamps are a great way to learn specific, targeted skills necessary for the role. Bootcamps can help those looking to pivot into tech get familiar with the essential functions of a product manager and their role within the industry.
Another way to bolster your resume is to learn relevant technical skills. There are free or low-cost courses online that can help you get familiar with data analytics, user experience, product design, and other related topics. This is a good choice for those who are interested in the field but aren't ready to commit to a bootcamp or certificate program.
Are product management bootcamps worth it?
For those seriously interested in a position as a product manager, yes. Product management bootcamps are an excellent way for people who want to break into the tech industry and learn specialized skills for the position. They are also often more affordable and take less time than earning a degree. Programs are taught by instructors with experience in the field, giving graduates a competitive edge with up-to-date skills. PM bootcamps usually cost between $900 and $4,500 and last six weeks to six months, depending on the program. While there are some part-time programs, most will likely require a significant time commitment to complete. Bootcamps also often provide job support to help graduates advance their careers, but landing a position in the industry will require personal dedication as well. Prospective students should consider their goals and prior commitments when deciding if a bootcamp is right for them.
What will you learn in a product management bootcamp?
Program topics may vary, but most focus on understanding the lifecycle of a product and learning how to identify problems and implement solutions. Students will learn how to conduct user research, analyze data, and strategically problem-solve within a product. Some courses may also include UX/UI design, digital marketing, making decisions using SQL, data visualization using analytics tools such as Tableau, and how to maximize efficiency by using Agile product management methods. Programs often allow students to work on real-world projects, partner one-on-one with mentors, and create a professional portfolio to demonstrate their skills. For more information on product management bootcamps, including student reviews, see our comprehensive list of product management bootcamps.
SwitchUp Rankings Methodology
SwitchUp's rankings are based on over 20,000 reviews from verified students and alumni, across over 500 bootcamps in operation. Because student and alumni feedback and ratings are indicative of bootcamp quality, rankings are ordered by review score. If bootcamps have the same review score, bootcamps with more reviews are ranked higher to break the tie. The order of the ranking is based on data at the time of publishing, but the ratings and review counts will change as more reviews come in.
To be considered for the 2021 rankings, bootcamps must help students land jobs in tech through excellent instructor support, curriculum, and career resources; each review left on SwitchUp evaluates the bootcamp on all of these aspects.
All bootcamps listed in product mangament ranking were required to meet the following criteria at the time of publication:
Offer an immersive or part-time product management program
Have at least 10 verified reviews of product management programs
For those product management program reviews, average at least 4/5 stars
Please see our full ranking methodology to see requirements for other rankings.
Bootcamp Highlights
Looking for a school with specific qualities? We've awarded merit badges to schools in several key areas:
Available Online
Offer either part-time or immersive courses that are available online. This includes courses that are offered temporarily online due to COVID-19.
Verified Outcomes
Offer a job outcomes report that was independently verified by a third-party auditor.
Flexible Classes
Offer self-paced, part-time, or evening classes.
Job Guarantee
Offer guaranteed job placement after graduation, or the student's tuition is refunded. Visit the official school site for related terms and conditions.
VET TEC Provider
Approved as a VET TEC Provider according to the U.S. Department of Veteran Affairs.