2021 Best Digital Marketing Bootcamps
4 Top Schools: Rankings, Reviews, and Courses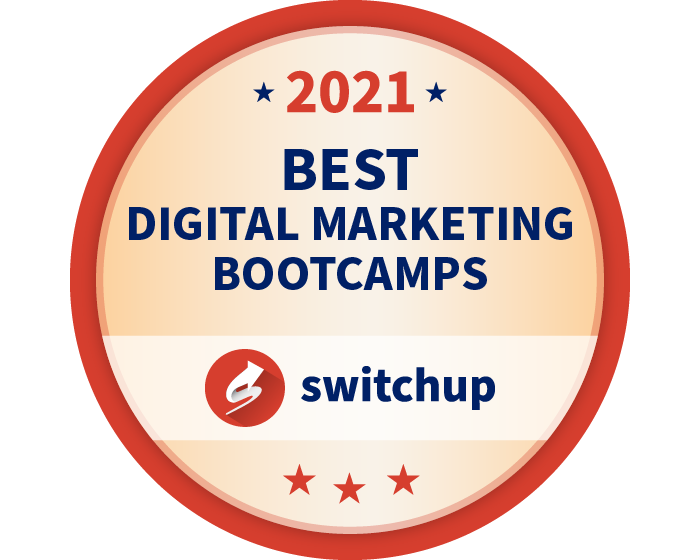 In recent years, digital marketing has emerged as a vitally important specialization within marketing. In fact, an American Marketing Association survey showed that many companies plan to shift a significant percentage of their marketing resources—an average of 12% as of 2019—to digital marketing in the near future. Thus, all kinds of organizations are looking for job candidates who have very current, highly specialized skills in this area. That's why individuals who would like to advance in this fast-growing segment of the marketing profession may want to consider enhancing their knowledge and experience with a digital marketing bootcamp.
SwitchUp has been tracking bootcamps since 2014, and we've become a reliable source for people who want to identify their best bootcamp options. Every program on our ranked list of digital marketing bootcamps, below, has been thoroughly reviewed by at least 10 students, and only those that have earned a minimum 4 out of 5 stars have made the cut. Click here to see our full methodology or read on for more information about digital marketing education and career opportunities.
Frequently Asked Questions About Digital Marketing Bootcamps
What is digital marketing?
Digital marketing is marketing that is performed online, rather than through print and in-person campaigns. Digital marketing can be carried out through social media, email, the internet, and more. You might see the term "online marketing" when you search for jobs related to digital marketing. The truth is that these fields are very similar to one another, but online marketing exclusively utilizes the internet whereas digital marketing can expand out to other digital devices and forms. Search Engine Optimization is one potential focus of digital marketing, but there are countless others, such as Pay Per Click Marketing and Social Media Marketing.
Can you get into digital marketing without a degree?
While there is no published set of rules about getting started in the field, people who enter the digital marketing space often have a degree. However, this degree does not need to be in marketing (in fact, most schools don't have digital marketing majors in the first place). Degrees that build skills related to digital marketing are attractive to employers, such as journalism or even computer science, as the skills required to be a digital marketer can range from writing to dealing with data and analytics. There are also many digital marketing bootcamps that can give job candidates a leg up and position people for success in the field. These are great options for those looking to learn practical skills they can put to use in a new position or apply in their current role. Bootcamps are often more affordable and take less time than pursuing a new degree, and open up new opportunities for a career in a dynamic field. This makes digital marketing a wonderful opportunity for those looking to change industries, bolster their credentials, or build on their current skill set.
Are digital marketing bootcamps worth it?
The short answer? Yes! Bootcamps offer a fast, flexible, and affordable way to build skills in a new field and better position yourself for success while searching for jobs or completing tasks in the digital marketing space. Digital marketing is an expanding field, and bootcamps provide the opportunity to join in the industry, no matter if you are a seasoned professional in another field or have just entered the workforce. In addition, some bootcamps offer career and networking support, such as resume review and help with finding open positions. For example, General Assembly provides career coaches, and Thinkful helps students with job placement.
What will you learn in a digital marketing bootcamp?
Digital marketing bootcamps may vary in the content they teach, but all bootcamps cover the essential skills one needs to succeed as a digital marketer. Topics a bootcamp may cover include Search Engine Optimization, advertising, managing campaigns, and using Google Analytics. For a comprehensive list of bootcamps with digital marketing programs, visit our digital marketing subject page.
What jobs can you get in digital marketing?
While digital marketing is relatively specialized, the approach for marketing online can vary significantly, from focusing on social media marketing to blogging and search engine optimization. With a background in digital marketing, you can become a digital marketer or you might be interested in being a social media manager, SEO specialist, PR specialist, outreach manager, and more! The skills required in digital marketing are transferable to many other fields, which makes investing in a digital marketing education a smart and dynamic choice.
SwitchUp Rankings Methodology
SwitchUp's rankings are based on over 20,000 reviews from verified students and alumni, across over 500 bootcamps in operation. Because student and alumni feedback and ratings are indicative of bootcamp quality, rankings are ordered by review score. If bootcamps have the same review score, bootcamps with more reviews are ranked higher to break the tie. The order of the ranking is based on data at the time of publishing, but the ratings and review counts will change as more reviews come in.
To be considered for the 2021 rankings, bootcamps must help students land jobs in tech through excellent instructor support, curriculum, and career resources; each review left on SwitchUp evaluates the bootcamp on all of these aspects.
All bootcamps listed in the best ditigal marketing ranking were required to meet the following criteria at the time of publication:
Offer an immersive or part-time digital marketing program
Have at least 10 verified reviews of digital marketing programs
For those digital marketing program reviews, average at least 4/5 stars
Please see our full ranking methodology to see requirements for other rankings.
Bootcamp Highlights
Looking for a school with specific qualities? We've awarded merit badges to schools in several key areas:
Available Online
Offer either part-time or immersive courses that are available online. This includes courses that are offered temporarily online due to COVID-19.
Verified Outcomes
Offer a job outcomes report that was independently verified by a third-party auditor.
Flexible Classes
Offer self-paced, part-time, or evening classes.
Job Guarantee
Offer guaranteed job placement after graduation, or the student's tuition is refunded. Visit the official school site for related terms and conditions.
VET TEC Provider
Approved as a VET TEC Provider according to the U.S. Department of Veteran Affairs.