2020 Best Data Science Bootcamps
18 Top Schools: Rankings, Reviews, and Courses
By: SwitchUp
Last Updated: April 20, 2020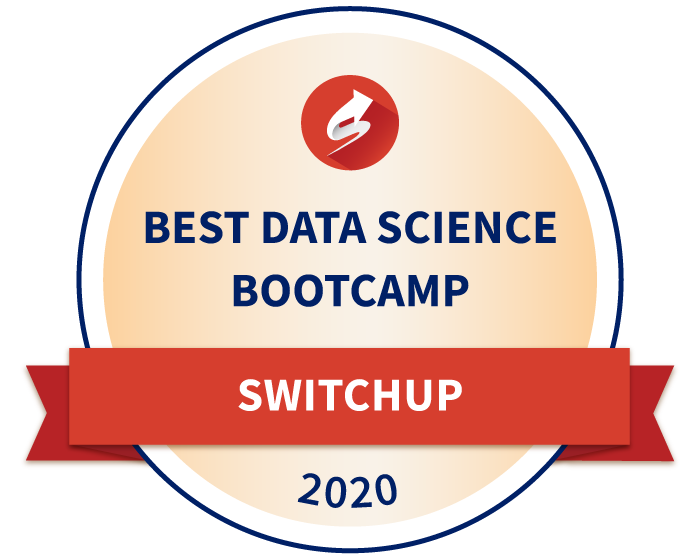 SwitchUp ranked the best 18 bootcamps for data science around the world, based on reviews by alumni. These reviews are based on factors like job support, instructor quality, and student outcomes. Please see our ranking methodology to learn more. Bootcamps are training the next generation of data scientists, who are in high demand. If you're fascinated by analytics and data patterns, a data science career may be a great fit. Continue your research with our top bootcamps by location or check out our guide to learning data science.
Bootcamp Highlights
Looking for a school with specific qualities? We've awarded merit badges to schools in several key areas:
Available Online
School offers fully online courses
Verified Outcomes
School publishes a third-party verified outcomes report
Flexible Classes
School offers part-time and evening classes
Job Guarantee
School guarantees job placement
Why Choose a Data Science Bootcamp?
Data science bootcamps are intensive, hands-on programs that help students learn the skills necessary for a career in data science or data analysis. Whether you're interested in career advancement, learning a specific programming language or skill, or simply following a personal interest, these programs have much to offer with regards to your new or growing career in the field.
According to SwitchUp's 2018 survey, data science bootcamps teach technical skills in data analysis, data visualization, and database analytics, and help students master languages and frameworks like Python, Pandas, R, SQL, Hadoop and Spark. Graduates see an average 45.6% salary increase compared to previously held jobs, and the skills necessary to land an intermediate or advanced position.
With those statistics in mind, interested professionals should consider enrolling in a bootcamp to help begin or grow their career. Fortunately, there are numerous programs that focus on data science, and the following list gives some insight into the additional benefits.
Flexibility: Many bootcamps offer courses online, as well as self-paced, part-time, and evening classes to work around student schedules.
Mentorship: Bootcamps frequently include tutoring and support through one-on-one mentorship. This is especially common with online bootcamps.
Career Advancement: Many bootcamps offer career services such as networking opportunities, job interview prep, hiring sessions, and career coaching after graduation.
Cost & Length: Bootcamps are typically shorter and less expensive than traditional degree programs.
Hands-On Education: Compared to many higher education options, bootcamp courses offer more opportunities for hands-on learning. They also give students experience with industry-relevant tools and technology.
Job Placement: Many of the best bootcamps guarantee job placement upon completion, or boast high job placement rates.
The 10 Best Data Science Bootcamps of 2020
SwitchUp's list of the 18 Best Data Science Bootcamps is based on information we've collected from hundreds of alumni reviews covering curriculum, job support, instructor quality, and outcomes. Of the 18 bootcamps listed, 8 offer online courses and 3 guarantee job placement. The following are the 10 highest rated bootcamps on the list:
---
Now that you've explored the benefits of enrolling in a data science bootcamp, check out our beginner's guide, including an overview of the industry, tips to determine if data science is the right field for you, job opportunities for data scientists, a rundown of the best bootcamps, and finally, tips on choosing the right program.
Industry Overview
Data scientists evaluate trends and draw conclusions from large datasets, using their findings to aid decision making. They are valuable assets to many businesses, because their work helps with crucial tasks such as mitigating risk and fraud, understanding customer needs, and defining long-term goals and strategies.
With the development of new technologies and customer-facing applications, it's no surprise that big data plays a significant role in the success of businesses. Thanks to high demand, careers in data science are considered some of the most lucrative positions the world. In fact, Forbes and Glassdoor both rated data scientist as the best job in America in 2018.
How to Know If Data Science Is Right for You
The work of a data scientist can influence everything from product development to marketing campaigns. Careers in data science require the following skills:
Advanced training in statistics, mathematics, or computer science.
A strong understanding of data visualization, data mining, and information management.
Moderate to advanced programming skills, specifically using Python or a similar programming language.
The ability to effectively communicate trends in data to various groups.
A keen understanding of data patterns, and a love of numbers.
Job Options After a Data Science Bootcamp
Data science is an extremely lucrative and fulfilling career option, and a data science bootcamp can be a great way to get started in the field. The following career options are available for individuals who attend a data science bootcamp:
Data Science Bootcamps Online
In recent years, many students have been favoring online data science courses because of their flexibility and lower cost. Schools such as NYC Data Science Academy, for example, offer a remote immersive data science bootcamp online. In their 12-week course, students learn beginner and intermediate levels of data science with R, Python, Hadoop & Spark, Github, and SQL, as well as the most popular and useful R and Python packages like XgBoost, Caret, dplyr, ggplot2, Pandas, and scikit-learn. Springboard, Dataquest and Data Science Dojo also offer rigorous online data science training.
Students should expect the same rigor, curriculum, and mentorship opportunities in a high-quality online program that they would expect from an in-person program. Schools recognize that there is demand among individuals with families or full-time jobs, and flexible online programs have begun to fill this gap in education without sacrificing quality.
Choosing the Best Bootcamp for You
There are many options when it comes to data science training, and you might find it difficult to hone in on the best program for you. To help you make an informed decision, we've compiled a series of checklists that can help you research bootcamps and choose the perfect program. You can also use SwitchUp's list of the Best Data Science Bootcamps to get started, and search for programs by location, price, ratings, and subject in the SwitchUp directory.
Still not sure how to choose the best program for you? Check out SwitchUp's Matching Tool! We'll match you with a top-rated bootcamp based on your criteria.
Remember, a school's success is measured by the success of its students. Your program's top priority should be to help you master the basics, learn essential problem solving skills, and, ultimately, land a rewarding career in data science.
SwitchUp Rankings Methodology
SwitchUp's rankings are based on over 15,000 reviews from verified students and alumni, across over 500 bootcamps in operation. Both the total review score and review count were weighted, and an internal algorithm was used to determine the ranking order. Because student and alumni feedback are indicative of bootcamp quality, review score was assigned a higher weight than review count.
To be considered for the 2020 rankings, all bootcamps must help students land jobs in tech through excellent instructor support, curriculum, and career resources. Both part-time and immersive bootcamps are included on this list.
All bootcamp listed were required to have at least a 4/5 star rating at the time of publication. They also needed to meet the following requirements:
Best coding bootcamps: Offer an immersive or part-time coding course, and have at least 30 verified reviews at the time of publication.
Best data science bootcamps: Offer an immersive or part-time data science course, and have at least 10 verified reviews at the time of publication.
Best web design bootcamps: Offer an immersive or part-time web design course, and have at least 10 verified reviews at the time of publication.
Best cyber security bootcamps: Offer an immersive or part-time cyber security course, and have at least 10 verified reviews at the time of publication.
Best online coding bootcamps: Offer immersive or part-time courses that are completely online, and have at least 10 verified reviews at the time of publication.
Merit Badges
SwitchUp has awarded merit badges to bootcamps that stand out in key areas. To be considered for a merit badge, bootcamps were required to meet the following criteria:
Available Online: Offer either part-time or immersive courses that are fully online.
Verified Outcomes: Offer a job outcomes report that was independently verified by a third-party auditor.
Flexible Classes: Offer part-time and evening classes
Job Guarantee: Offer guaranteed job placement after graduation, or the student's tuition is refunded.