2021 Best Online Coding Bootcamps
21 Top Schools: Rankings, Reviews, and Courses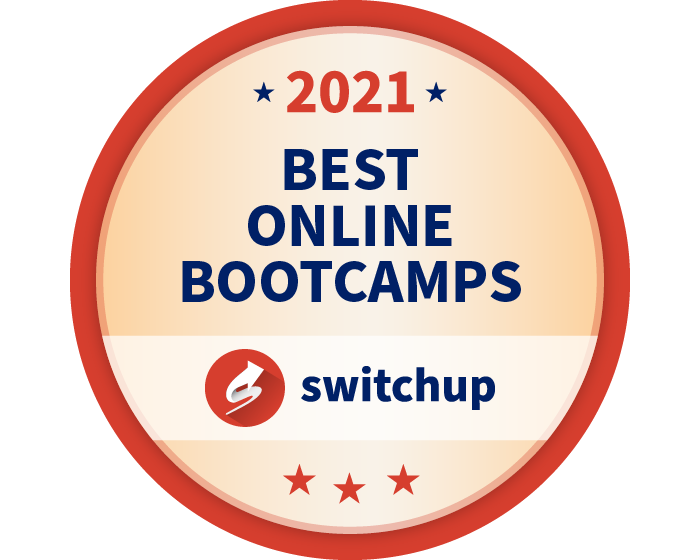 According to research conducted by Indeed, hiring managers in both large and small tech companies claim they can't find enough skilled coders to meet their needs. However, about 80% of survey respondents have hired coding bootcamp grads to fill their talent shortages, and nearly all of them said they've been highly satisfied with the results. So, for individuals who want to develop new coding skills quickly and conveniently, an online coding bootcamp just might be the answer. In approximately six months' time, online coding bootcamp graduates will be better prepared to take on these in-demand roles. Some bootcamp providers even offer job placement assistance.
Since we began ranking online coding bootcamps in 2014, SwitchUp has become a trusted source for people who want to identify the online coding bootcamp options that best meet their needs. Only those bootcamps that have earned at least 4 out of 5 stars and been thoroughly reviewed by a minimum of 10 graduates have made it onto our latest ranked list, below. Click here to see our full rankings methodology or discover detailed information about online coding bootcamp programs and job opportunities here.
Frequently Asked Questions About Online Coding Bootcamps
What are the 10 best online bootcamps of 2021?
Our online bootcamp rankings are based on thousands of reviews. The bootcamps reviewed must offer at least one immersive or part-time coding program that is completely online. The following are the 10 best online bootcamps on the list:
Why choose an online coding bootcamp?
An online coding bootcamp is a great option for those who might struggle with attending an in-person program in their area. Coding bootcamps are designed to provide intensive training that helps students develop real-world skills that can boost their career and salary potential. Although some online bootcamps have a more set schedule, one of the top benefits is the flexibility they provide because you can usually attend from anywhere. Both part-time and full-time online coding bootcamps are available.
Is an online bootcamp different from an in-person bootcamp?
With an online bootcamp, there is no in-person contact with teachers or fellow students, but the opportunity to receive support and to network are often still a part of many online bootcamps. However, while online coding programs offer many of the same benefits as in-person programs, they may require more self-direction, especially if they are flex programs, which are programs that are designed to fit into a busier lifestyle. Another difference may be the technology you're required to have. You will need to look at what the online program you're interested in requires and invest in the right equipment and setup if you don't already have it. This could include things like your operating system, hardware, software, apps, and memory.
Are online coding bootcamps worth it?
Coding bootcamps are a personal choice, and for those looking to gain job-ready skills for the tech industry in an intensive and accelerated program, online coding bootcamps are worth it. People who are independent, proactive, and hardworking thrive in a bootcamp setting. Online programs are also great for people who have time or travel constraints, don't have access to in-person bootcamps near them, or learn better with an online curriculum. Before you enroll, consider your personal and professional goals and check out our article Are Coding Bootcamps Worth It? for a more in-depth look at the best candidates for coding bootcamps.
How much do online coding bootcamps cost?
The average cost for an online coding bootcamp ranges between $5,000 and $17,000. You can pay up front, but many coding bootcamps offer alternatives, such as loans, scholarships, or ISAs and deferred tuition.
Are there free online coding bootcamps?
Yes, there are free online coding bootcamps available. Some free bootcamps are based on certain parameters, for example, for women or minorities. However, there are others that are simply free resources. Check out our Free Coding Bootcamp Guide to learn more. Free coding bootcamps are great for beginners. They often offer self-paced courses and projects to help you learn the basics and practice the materials. Completing a free course is an excellent way to determine whether taking a full bootcamp is a worthwhile investment for you.
How long is the average online coding bootcamp?
The typical online coding bootcamp lasts 24 weeks for a full-time program. However, online coding bootcamps can range from 12 to 36 weeks. Many programs also have a part-time option or a flex program, both of which are designed to fit into a busier lifestyle. These are helpful for people who have more time constraints, such as job or family responsibilities, but who still want to work toward advancing their careers.
How can you prepare for an online coding bootcamp?
If you are brand new to coding, taking a prep course can be beneficial. Prep courses are designed to help you get familiar with programming languages and the basics of coding. They also give you a feel for a bootcamp's intense pace. Bootcamps will often list if they offer a prep course. If they don't, you can also take an online coding course before enrolling in a bootcamp to see if it's something you're ready to invest your time, money, and energy in. Many online coding bootcamps also have a list of system requirements, like operating system, RAM, drive space, processing speed, software, and apps, so it's important to make sure you have the correct equipment and software.
How do I choose the right online coding bootcamp?
To choose the best online coding bootcamp for you, start by identifying what fits best. This includes how much time you can commit, your finances, your learning style, and your career goals. For example, if you are interested in becoming a data scientist and will need to continue working, you may want to research online data science bootcamps that offer part-time or flex programs. For more ideas about how to fine-tune your selection, check out our Guide to Choosing a Bootcamp. To find out more about the bootcamp experience and what tech careers are available after graduating, read our blog about what jobs you can get after coding bootcamp.
How can I succeed at coding bootcamp?
To optimize your chance of succeeding, define your goals and select the ideal bootcamp type for your needs. We can help you find a top-rated bootcamp with our Get Matched tool. Before you begin the bootcamp, you should create a distraction-free workspace with the required equipment, operating system, and software. It's also important to make sure you're in the right space mentally because you should be ready to work hard and be fully immersed in a learning experience. You may want to consult with your family and employer in advance to make sure you'll have their support as you go through the process.
Once you're in the bootcamp, carve out a dedicated time for practice and stick with your new routine as much as you can. Review your lessons each week, and don't hesitate to ask questions and learn from others if there's something you don't understand. When you're working on coding assignments, it's helpful to take mini-breaks for exercise and meals, or to just step away for a bit and come back with a fresh perspective. Above all, recognize that learning anything new - especially something as challenging as coding - will take time and probably involve a lot of mistakes. By adopting a positive attitude and staying focused on the ultimate rewards, you'll help yourself get through any rough patches along the way.
SwitchUp Rankings Methodology
SwitchUp's rankings are based on over 20,000 reviews from verified students and alumni, across over 500 bootcamps in operation. Because student and alumni feedback and ratings are indicative of bootcamp quality, rankings are ordered by review score. If bootcamps have the same review score, bootcamps with more reviews are ranked higher to break the tie. The order of the ranking is based on data at the time of publishing, but the ratings and review counts will change as more reviews come in.
To be considered for the 2021 rankings, bootcamps must help students land jobs in tech through excellent instructor support, curriculum, and career resources; each review left on SwitchUp evaluates the bootcamp on all of these aspects.
All bootcamps considered for the best online coding ranking were required to meet the following criteria at the time of publication:
Offer an immersive or part-time coding program that is completely online
Have at least 10 verified reviews of online coding programs
For those online coding program reviews, average at least 4/5 stars
Please see our full ranking methodology to see requirements for other rankings.
Bootcamp Highlights
Looking for a school with specific qualities? We've awarded merit badges to schools in several key areas:
Available Online
Offer either part-time or immersive courses that are available online. This includes courses that are offered temporarily online due to COVID-19.
Verified Outcomes
Offer a job outcomes report that was independently verified by a third-party auditor.
Flexible Classes
Offer self-paced, part-time, or evening classes.
Job Guarantee
Offer guaranteed job placement after graduation, or the student's tuition is refunded. Visit the official school site for related terms and conditions.
VET TEC Provider
Approved as a VET TEC Provider according to the U.S. Department of Veteran Affairs.