2020 Best Online Coding Bootcamps
50 Top Schools: Rankings, Reviews, and Courses
By: SwitchUp
Last Updated: April 20, 2020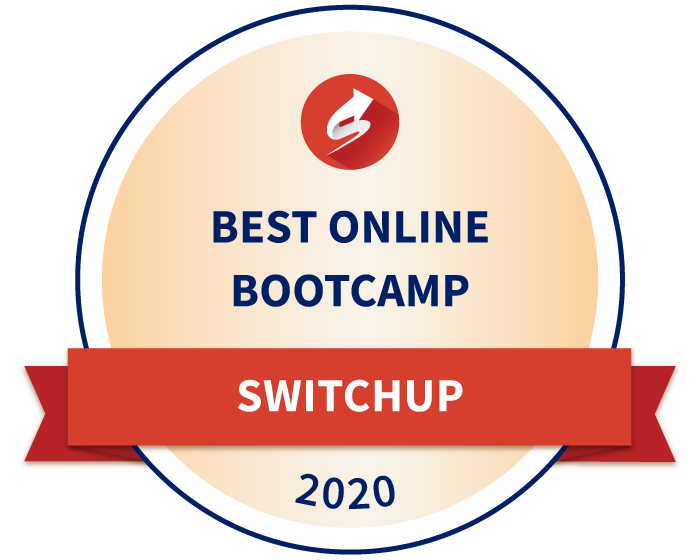 This list of the 50 best online coding bootcamps covers a range of subjects including web development, data science, and cyber security. Online programs combine flexibility with the rigorous curriculum and accountability you would expect from any top-rated bootcamp. Please see our ranking methodology for more info on how we curated this list. To learn more, check out our expert advice on choosing an online bootcamp.
Bootcamp Highlights
Looking for a school with specific qualities? We've awarded merit badges to schools in several key areas:
Available Online
School offers fully online courses
Verified Outcomes
School publishes a third-party verified outcomes report
Flexible Classes
School offers part-time and evening classes
Job Guarantee
School guarantees job placement
Why Choose an Online Coding Bootcamp?
There are several advantages to enrolling in a coding bootcamp, either in person or online. This is especially true if you have no prior computer programming experience, or don't have an educational background in a computer science related field. Coding bootcamps feature curriculum-based instruction in a programming or software engineering field. They are offered worldwide and are used by individuals and professionals across the globe to gain technical training and advance their careers. Bootcamps have numerous reported benefits (according to SwitchUp's 2018 survey) including intimate learning environments with an average student to teacher ratio of 4.7:1; the ability to learn technical skills in HTML, CSS, JavaScript, and other computer programming languages; an average increase in salary of 45.6% compared to previously held jobs; an increase in employment with a reported 71% of bootcamp alumni acquiring a full-time position; and many others. While in-person bootcamps are still the most popular option, there are some specific benefits to choosing an online bootcamp:
The 10 Best Online Bootcamps of 2020
We have compiled a list of the 50 Best Online Coding Bootcamps based on thousands of reviews that cover curriculum, job support, price range, location, job outcomes, and overall quality. The following are the 10 best rated bootcamps on the list:
Having explored the benefits of both in-person and online coding bootcamps, use this comprehensive guide to help you decide if online bootcamps fit your learning style. Below you'll find resources to help prepare you for this decision, including SwitchUp's Matching Tool, which is designed to find the online program that best aligns with your career goals.
Industry Overview
As the coding bootcamp industry grows, more students are turning to online bootcamps as a way to balance their education with other responsibilities, such as a full-time job or family. Until recently, only a handful of online bootcamps existed, including Bloc, Thinkful, and Skillcrush, and only 8.4% of bootcamp enrollment consisted of online students. Now, in-person bootcamps are venturing into the online space as well. Bootcamps such as Hack Reactor, Flatiron School, Metis, and NYC Data Science Academy now offer online immersives in addition to their in-person bootcamps. With these new options available, the proportion of online students has increased to 20% of bootcamp enrollment.
From MOOCs to Online Bootcamps
MOOCs, also known as Massive Open Online Courses, allow participants to learn the basics of an industry cost-free. Online coding bootcamps have taken this practice a step further by creating rigorous, curriculum-driven options that better reflect traditional education. Unlike MOOCs, bootcamps offer a set curriculum, mentorship, and accountability to help ensure students acquire their desired skill sets. Although code bootcamps usually have an associated cost, they also provide the support needed to successfully change careers.
Online Code Bootcamp Predictions for 2019
According to SwitchUp's survey, online coding bootcamps continue to gain popularity, and have become the go-to for individuals who wish to work full-time while completing a program. Those looking to learn in a flexible, convenient environment, while still receiving the same level of mentorship and rigorous training as in-person programs offer, may find online coding schools are best suited for their needs.
How to Choose the Best Online Bootcamp for You
With a variety of online choices, it can feel difficult to hone in on your top priorities. The checklist below is designed to help students navigate the process of choosing an online bootcamp tailored to their specific needs. When choosing the best online bootcamp for you, be sure to:
Closely review third-party verified student outcomes reports. CIRR and other organizations can help you determine if your intended program has the numbers to back-up the success rates it advertises.
Speak to teachers and alumni. Discussions with instructors and students can help you determine if the program is the right fit for you and your learning style.
Explore introductory and preparatory classes. Get a feel for the study environment by actually participating in an intro class.
Clarify time commitments or requirements. Some programs require students to meet a weekly checkpoint goal with assignments, or regularly speak with a mentor. Be sure you understand all requirements before choosing a course.
Compare and contrast highly-ranked programs in your desired field to see what each course offers, as well as what each lacks.
Explore the curriculum for your entire program. When making this important decision, it's necessary to understand what will and won't be covered. Make sure you'll be learning exactly what you want to learn.
Read student reviews. Firsthand accounts are often the most transparent and personalized reporting you can find.
Explore the mission of your program. Is it mentor-driven? Student-driven? Is there project-based learning? All of these factors add up. Make sure you pick a program that leaves you feeling prepared and skillful when you graduate.
How to Prepare for an Online Code Bootcamp
Once you've committed to a program, it's important to ensure you're well-prepared to begin. Many schools offer intro courses to help students get their bearings. The following checklist will help ensure you're ready to start your immersive course when the time comes.
​​Become accustomed to online learning by exploring MOOCs or free coding basics courses on Coursera, Udemy or Udacity.
Take any introductory or preparatory courses your bootcamp may offer.
Read through your online curriculum.
Connect with your mentor or other members of your class.
Join online coding communities.
Explore online code webinars or lectures.
Attend meetups or hackathons in your area. Although you'll be learning online, it's necessary to connect with tech professionals in your area.
Take a deep breath. You have made a decision to change your life and your career. Celebrate and get ready for a rewarding next chapter!
Start Your Search
The best online bootcamps around the world provide immense flexibility while upholding the rigor of on-site programs. If you're passionate about pursuing a lucrative, technology-driven career, these top online coding programs are sure to help you achieve your goal. Use our list of the Best Online Coding Bootcamps to get started. You can also search for programs by location, price, ratings, and subject in the SwitchUp directory. We hope this guide is helpful in your search.
Additional Resources
The following resources may help you in your search for an online coding bootcamp that meets your needs. Below you'll find material about job guarantees and what they entail, information about discounts and financial aid, a guide to free coding and web development courses online, and SwitchUp's Matching Tool, designed to help you find the program that best aligns with your learning and career goals:
SwitchUp Rankings Methodology
SwitchUp's rankings are based on over 15,000 reviews from verified students and alumni, across over 500 bootcamps in operation. Both the total review score and review count were weighted, and an internal algorithm was used to determine the ranking order. Because student and alumni feedback are indicative of bootcamp quality, review score was assigned a higher weight than review count.
To be considered for the 2020 rankings, all bootcamps must help students land jobs in tech through excellent instructor support, curriculum, and career resources. Both part-time and immersive bootcamps are included on this list.
All bootcamp listed were required to have at least a 4/5 star rating at the time of publication. They also needed to meet the following requirements:
Best coding bootcamps: Offer an immersive or part-time coding course, and have at least 30 verified reviews at the time of publication.
Best data science bootcamps: Offer an immersive or part-time data science course, and have at least 10 verified reviews at the time of publication.
Best web design bootcamps: Offer an immersive or part-time web design course, and have at least 10 verified reviews at the time of publication.
Best cyber security bootcamps: Offer an immersive or part-time cyber security course, and have at least 10 verified reviews at the time of publication.
Best online coding bootcamps: Offer immersive or part-time courses that are completely online, and have at least 10 verified reviews at the time of publication.
Merit Badges
SwitchUp has awarded merit badges to bootcamps that stand out in key areas. To be considered for a merit badge, bootcamps were required to meet the following criteria:
Available Online: Offer either part-time or immersive courses that are fully online.
Verified Outcomes: Offer a job outcomes report that was independently verified by a third-party auditor.
Flexible Classes: Offer part-time and evening classes
Job Guarantee: Offer guaranteed job placement after graduation, or the student's tuition is refunded.