2020 Best Web Design Bootcamps
18 Top Schools: Rankings, Reviews, and Courses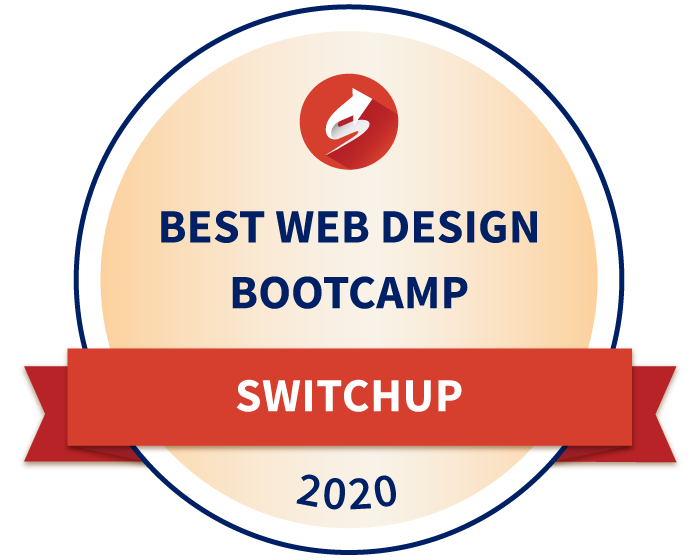 This list of the best-rated web design bootcamps is based on hundreds of alumni reviews covering curriculum, job support, and overall quality. All 18 featured schools have a 4-star rating or higher. Please see our ranking methodology to better understand how we curated this list.
Demand for web designers is on the rise, and a bootcamp can be a flexible, cost-effective way to break into the field. To learn more, visit our top bootcamps by location or check out our expert advice on starting a career in web design.
Bootcamp Highlights
Looking for a school with specific qualities? We've awarded merit badges to schools in several key areas:
Available Online
School offers fully online courses
Verified Outcomes
School publishes a third-party verified outcomes report
Flexible Classes
School offers part-time and evening classes
Job Guarantee
School guarantees job placement
Why Choose a Web Design Bootcamp?
Web design bootcamps offer curriculum-based instruction in visual design, UI, or UX, and are available both online and in many cities around the world. Whether you're interested in beginning or advancing your career or simply pursuing design as a personal interest, bootcamps are a fantastic option to help you gain skills and reach your goals.
Glassdoor ranks UX designer among the top 50 jobs in America, with an average salary of $89,000 and a job satisfaction rating of 3.7 out of 5. With demand for designers on the rise, bootcamps can be a flexible, cost-effective way to break into the field. According to SwitchUp's 2018 survey, web and UX/UI design bootcamps boast small class sizes, strong job outcomes, and excellent student satisfaction rates. Students learn core design principles, and many programs also teach front-end fundamentals in HTML, CSS and Javascript.
SwitchUp's survey also reports that bootcamp graduates enjoy an average 45.6% salary increase compared to previously held jobs, and 71% of bootcamp alumni land a full-time job after they complete the program. While new skills, higher salaries, and impressive job outcomes are attractive benefits of web design bootcamps, there are numerous other benefits including:
Flexibility: Many bootcamps offer courses online, as well as self-paced, part-time, and evening classes to work around student schedules.
Mentorship: Bootcamps frequently include tutoring and support through one-on-one mentorship. This is especially common with online bootcamps.
Career Advancement: Several bootcamps offer career services such as networking opportunities, job interview prep, hiring sessions, and career coaching after graduation. An increasing number of bootcamps have also built robust hiring networks to help students land jobs.
Cost & Length: Bootcamps can be a variety of lengths, from a few weeks to several months, and typically cost about $10,000. Compare this to a typical degree program, and the time and monetary investment required to attend a bootcamp can be several times lower.
Hands-On Education: Compared to many higher education options, bootcamp courses offer more opportunities for hands-on learning. They also give students experience with industry-relevant tools and technology.
Job Placement: Many of the best bootcamps guarantee job placement upon completion, or boast high job placement rates.
The 10 Best Web Design Bootcamps of 2020
SwitchUp's list of the Best Web Design Bootcamps is based on information we've collected from hundreds of alumni reviews covering curriculum, job support, and overall quality. Of the 18 bootcamps listed, 7 offer online courses and 4 guarantee job placement. The following are the 10 highest rated bootcamps on the list:
---
Now that you have explored the benefits and advantages of enrolling in a web design bootcamp, use our beginner's guide to help determine if a career in web design is the best path for you. Below, you'll find several resources to help you choose a program and prepare for the application process.
Still need help deciding on a program? Check out SwitchUp's Matching Tool, designed to help you find the program that best suits your individual needs.
Industry Overview: Careers in Web Design, UX, and UI
A customer's first impression of a business is often based on his/her experience with the company's website or app. Because of that, usability can have a substantial impact on customer acquisition and retention. As websites and apps have become more instrumental to business success, the demand for designers has increased significantly.
Designers are also in-demand because of the impressive outcomes that great design can have for a company. According to a report by the Design Management Institute, companies that adopted a design-focused business model, such as Apple, IBM, Starbucks, and Target, outperformed their peers in the S&;P500 by a whopping 228% over the last 10 years. Because of such results, the median salary for designers has increased across the tech industry. The Robert Half 2018 Technology and Salary Report shows that the average salary for a web designer is $86,000, with some designers earning as much as $127,000. UX designers earn a slightly higher average salary of $88,500, while the average salary for UI designers sits at $78,000.
Many students with an interest in web design choose to study user interface design or user experience design. User interface (UI) designers are responsible for the aesthetic "look and feel" of a website or app. User experience (UX) designers focus on competitive analysis, interviews, wireframing, and journey flows in order to learn more about their target audience and launch a user-friendly product. Combined, these two specialties create a positive user experience that drives customer loyalty.
Web Design Courses Online
In recent years, many students have been favoring online web design courses because of their flexibility and lower cost. Programs such as CareerFoundry offer remote immersive bootcamps in UI and UX design. In their 32-week immersive course, individuals receive hands-on training through live instruction, one-on-one mentorship, and lectures. Students enrolled in online schools such as Bloc, BrainStation, or Designlab should expect a similar intensity, curriculum, and mentorship as in an in-person program.
Another fast-growing education model is the hybrid program, exemplified by Designation. Their program consists of 12 weeks of at-home training in an online classroom, and 12 weeks of in-person courses on campus in Chicago. A hybrid structure can offer a flexible alternative to immersive on-campus programs, especially for students with full-time jobs or family commitments.
How to Know if a Web Design Bootcamp Is Right For You
Although UX, UI and web design bootcamps can set you up for a successful new career, it's also important to make sure you possess the right skills to succeed in the field once you've completed your studies. Below, we've outlined some of the key skills required by each of these three fields.
UX Design Skills:
Ability to conduct thorough research. UX bootcamps teach intensive research processes that help students explore the psychological and social-emotional experiences of a user.
Collaborative approach to work. Students are required to give and receive feedback with classmates in order to enhance products.
Knowledge of wireframes and UI, including some basic prototyping and code.
Strong writing and communication skills.
Experience in HTML, CSS, and possibly JavaScript.
Experience with A/B testing and data analysis.
UI Design Skills:
Understanding of UX concepts, including human-computer interaction.
Ability to conduct usability testing.
Visual design skills including attention to color, layout, and font.
Experience with design programs such as Photoshop, Sketch, and Illustrator.
Ability to present and explain design concepts.
Understanding of front-end web development languages such as HTML, CSS, and Javascript.
Web Design Skills:
Working knowledge of design tools such as Photoshop and Illustrator.
Experience in HTML, CSS, Javascript, and PHP.
Knowledge of a front-end framework.
Understanding of file transfer protocol and the ability to push a website live.
Ability to work well under pressure, and as part of a team.
Choosing The Best Bootcamp For You
When considering a web or UI/UX design course, it's important to factor in cost, learning styles and learning environment. If you're interested in pursuing a career in User Experience (UX) design, you'll want to choose a course that teaches fundamentals in competitive analysis, interviews, wireframing, and journey flows. For a career in User Interface (UI), you'll want to find a program with a focus on usability, web design best practices, and interaction design.
While the web design industry offers many career paths, it can be challenging to hone in on your top priorities for a bootcamp. To help cover all your bases, we've compiled a series of checklists that can help you research bootcamps and identify the best options.
Still not sure how to choose the best program for you? Check out SwitchUp's Matching Tool! We'll match you with a top-rated bootcamp based on your criteria.