2020 Best Web Design Bootcamps
18 Top Schools: Rankings, Reviews, and Courses
By: SwitchUp
Last Updated: April 20, 2020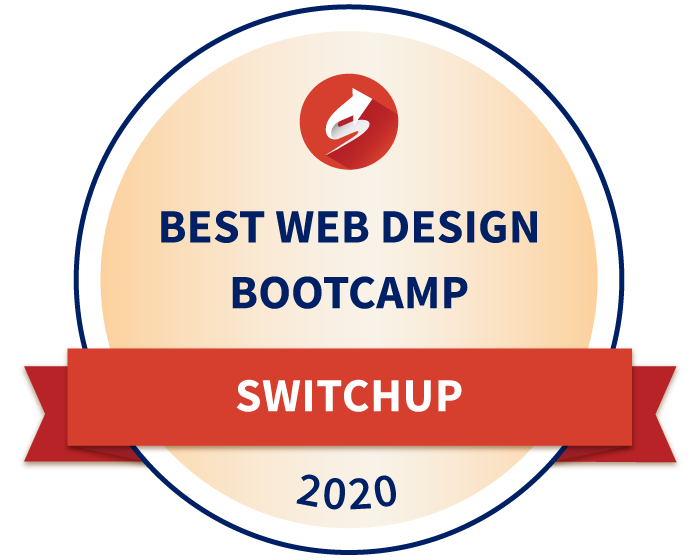 Web design involves functionality, usability, and interface, and it plays an essential part in a user's overall digital experience. As a result, the demand for web designers is growing. The Bureau of Labor Statistics (BLS) predicts employment growth at 13% between 2018-2028.
A flexible, cost-effective way to break into the field is enrolling in a web design bootcamp. You can choose from in-person or online options, and programs are typically shorter and more affordable than a 4-year degree. They provide immersive, hands-on training that equips you with key skills to jumpstart your career.
This list of the top-rated web design bootcamps is based on alumni reviews, which rate overall experience, job support, and curriculum, and was created using a weighted score of review score and review count. Please see our ranking methodology to better understand how we curated this list, or for a more in-depth look into web design, UX, UI, and web design bootcamps, jump to our FAQs.
SwitchUp Rankings Methodology
SwitchUp's rankings are based on over 15,000 reviews from verified students and alumni, across over 500 bootcamps in operation. Both the total review score and review count were weighted, and an internal algorithm was used to determine the ranking order. Because student and alumni feedback are indicative of bootcamp quality, review score was assigned a higher weight than review count.
To be considered for the 2020 rankings, all bootcamps must help students land jobs in tech through excellent instructor support, curriculum, and career resources. Both part-time and immersive bootcamps are included on this list.
All bootcamp listed were required to have at least a 4/5 star rating at the time of publication. They also needed to meet the following requirements:
Best coding bootcamps: Offer an immersive or part-time coding course, and have at least 30 verified reviews at the time of publication.
Best data science bootcamps: Offer an immersive or part-time data science course, and have at least 10 verified reviews at the time of publication.
Best web design bootcamps: Offer an immersive or part-time web design course, and have at least 10 verified reviews at the time of publication.
Best cyber security bootcamps: Offer an immersive or part-time cyber security course, and have at least 10 verified reviews at the time of publication.
Best online coding bootcamps: Offer immersive or part-time courses that are completely online, and have at least 10 verified reviews at the time of publication.
Bootcamp Highlights
Looking for a school with specific qualities? We've awarded merit badges to schools in several key areas:
Available Online
School offers fully online courses
Verified Outcomes
School publishes a third-party verified outcomes report
Flexible Classes
School offers part-time and evening classes
Job Guarantee
School guarantees job placement
Frequently Asked Questions About Web Design Bootcamps
What are the 10 Best Web Design Bootcamps of 2020?
SwitchUp's list of best web design bootcamps is based on information we've collected from hundreds of alumni reviews that cover curriculum, job support, and overall quality. Of the 18 bootcamps listed, seven offer online courses, and four guarantee job placement. The following are the 10 highest rated bootcamps on the list:
Why choose a web design bootcamp?
Web design bootcamps offer a curriculum-based education in visual design, UI, or UX and are available in-person in many cities around the world as well as online. Whether you're interested in beginning or advancing your career, bootcamps are a great option to help you gain real-world web design skills. Bootcamps are often a more cost- and time-efficient way to learn core design principles and front-end fundamentals compared to a bachelor's degree.
Bootcamps can also offer several benefits like flexibility, mentorship, career placement support, and a hands-on education that provides students with experience using industry-relevant tools, for example, Illustrator, Photoshop, and front-end languages. In some web design programs, you will start creating a portfolio, and in many, you'll work with industry professionals who teach using real-world projects. After you complete a web design bootcamp, you should be able to conduct usability evaluations and be an expert on the principles of a user-centered design. You'll become proficient in front-end languages and be able to design a responsive, visually appealing website.
Are web design bootcamps worth it?
Yes, web design bootcamps are worth it. Bootcamps are designed for motivated students who want an intensive education that will allow them to jumpstart or advance a career in web design. Bootcamps offer different formats with options that fit a variety of lifestyles. Full-time, immersive programs can be completed in 12-24 weeks on average, and a part-time or flex program is a great option if you need to balance additional responsibilities you might have while pursuing your education. To find out if a web design bootcamp is the right choice for you, read more about why bootcamps are worth it.
Are there any part-time, flexible, or online web design bootcamps?
There are several part-time, flexible, and online web design bootcamps available. Our ranking list above includes badges that let you easily find bootcamps that offer flex and online options. You can also find a more comprehensive list of bootcamp programs on our web design, UX, and UI pages.
What will you learn at a web design bootcamp?
Web design bootcamps often cover several subjects and are designed to help you gain skills to start your career. For example, a bootcamp may cover responsive and adaptive web design, and you may learn how to use Sketch or another graphic design program. Some of the front-end languages you may encounter include CSS, JavaScript, and HTML.
Many students with an interest in web design choose to study user interface design or user experience design. In a UX or UI design bootcamp, the curriculum typically will cover data analysis, A/B testing, user research, and usability testing. When considering a web or UI/UX design bootcamp, it's important to factor in career goals, cost, learning styles and learning environment. For example, if you're interested in pursuing a career in User Experience (UX) design, you'll want to choose a course that teaches fundamentals in competitive analysis, interviews, wireframing, and journey flows. For a career in User Interface (UI), you'll want to find a program with a focus on usability, web design best practices, and interaction design.
What is the difference between UX and UI?
UX stands for the user experience and UI stands for user interface. UX designers focus on all of a user's interaction with a company and its services or products. UI design is about interactivity or the digital attractiveness and responsiveness of the user's digital experience. Another way to put it is UX is about the overall experience, while UI is about the look and function. UX and UI teams often work closely together to create a complete and positive user experience, but both require specific skill sets.
Are there web design courses available?
Yes, there are many web design courses available. You can find free courses that let you get a taste of what a full web design bootcamp will look like. There are also web design courses for gaining basic knowledge, advancing your skills, or focusing more in-depth on a particular tool or skill. Learn more by reading our 2020 Guide to Web Design Courses.
What is the job outlook for web designers?
Web designers are in high demand, and the job outlook is estimated to increase by 13% from 2018-2028, according to the BLS. Consumers expect businesses to have a digital presence, and web designers are a crucial part of that experience. Glassdoor ranks UX designer among the top 50 jobs in America, with an average salary of $90,500, and Indeed lists the average base salary for a web designer at $43,800.