What was Nicole Cagampan's experience at General Assembly?
By:
The SwitchUp Team
Last Updated:
July 18, 2018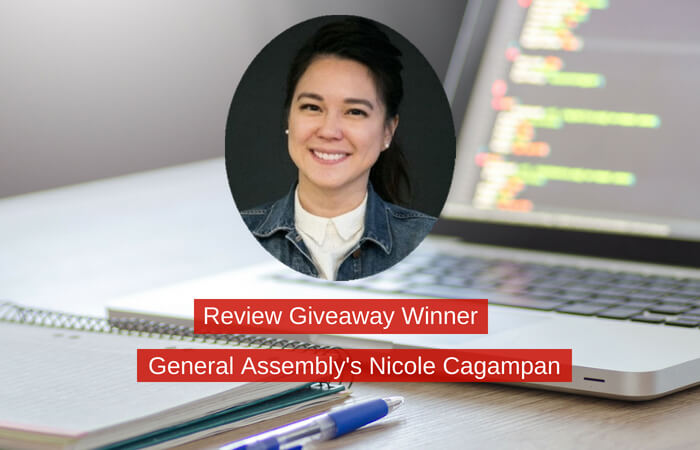 ---
After discovering design thinking and getting a better understanding of what UX entails, Nicole enrolled in General Assembly's 10-week UX Design program. She had thought designers were artists, but after realizing UX design is a lot like science and psychology, she took the plunge. Her advice for future students? Always have a beginner's mindset, during the bootcamp and beyond. Especially in fields such as design and engineering. Keep reading our interview to learn more about her experience inside and after General Assembly's program.
Can you tell us how you made your way from Law School to UX Design?
I was a psychology major in college and gained internship credits by being a Peer Academic Advisor. I loved helping people in an academic setting so after I graduated, I held multiple roles in higher education counseling and administration. It was during my time working in the admissions office at Stanford Law School that I stumbled upon the Stanford d.school and discovered what design thinking was. I was under the common misconception that designers were artists, but I learned that user experience design actually had many similarities to the behavioral research principles and scientific methods that I learned under the discipline of psychology.
What inspired you to attend a General Assembly?
Once I discovered what UX design was, I did as much self-studying as I could. I read a bunch of UX design books and even tried applying to design jobs. Looking back, I can't believe I applied to high profile design jobs without a portfolio! After many job rejections, I knew I needed to seek out more structured help.
How did you get started in UX Design? Is it something you always wanted to do?
I had no idea what UX design was until years after I graduated from college. Even if I didn't know what it was in college, I started building my foundation behind UX design principles during my psychology courses. In both disciplines, you start with a hypothesis, figure out how you will conduct an experiment, and come to a conclusion. I officially started working towards a UX design career when I realized that I could turn my findings into tangible solutions. It was the perfect combination of research and creativity.
There are quite a few bootcamps to choose from - what made you decide to attend General Assembly over other programs? What were your goals for the program?
Truthfully, I didn't even realize there were so many bootcamps! I found out about General Assembly through a cousin that was in their web development program at the time and saw that GA had a UX design program too. It seemed to be exactly what I was looking for. My goal was to make a career switch.
For you, what were the pros and cons of attending a bootcamp?
Pros: GA gave me a structured, accelerated way to get hands-on design experience, which was difficult for me to do on my own as a beginner. Cons: It was expensive and a luxury to be able to be unemployed for 10 full-time weeks, with the pressure to land a job afterward.
Tell us a bit about your experience and the day-to-day during the course: How were courses structured?
During the 10 week period, you have a project due at the end of every 2 weeks. Lectures were paced in a way that you were taught a new concept that would apply to the next part of your assignment. And once your project was done, you would present it in front of the class.
What was your cohort like?
I have so much love for my UXDI cohort! We were all in the same boat; passionate about design, nervous about the future, and hungry to succeed. Working alongside each other towards the same goal made us really close.
What was an average day in the program like?
Typically, we would have lectures in the morning, break for lunch, then workshop time in the afternoon, usually working towards a final project.
What was most helpful about the environment and teaching style at General Assembly?
GA was different than a traditional school in that all of the information I was learning was practical. If any lecture was more theoretical, it was always followed by a hands-on project that showcased how I would use it in the real world. I really appreciated that.
What was your cohort like? Did you feel like it was a diverse place to learn? Tell us a bit about the instructors and culture at General Assembly?
My cohort and instructors were very diverse and gave me the opportunity to learn from many perspectives. My classmates came to GA for many different reasons from varying fields and levels of experience. My instructors were able to share so much of their knowledge and were always willing to help.
You are currently a Product Designer at IGN Entertainment? What does this job title mean?
As a Product Designer at IGN, I mainly work on designing our desktop website and mobile apps. The process ranges from conducting user research to mocking up interface designs into development.
Did your bootcamp prepare you for the job search, and if so, how?
Definitely. A designer's most important tool for showcasing his/her work is a portfolio. General Assembly's curriculum was structured in a way that by the end of 10 weeks, you have at least 3 design projects to talk about. Also as part of our curriculum, we met with our career coach weekly (if not more) to get assistance with resumes, interviews, design challenges, etc.
Tell us a little bit about what you do in your current job. What motivates you in your career?
Because of my background, I love working on the research tasks for our design projects. That can include interviewing users, synthesizing feedback, strategizing products, and conducting experiments. I also work on wireframing, prototyping, and mocking/specing designs. And since IGN is fairly small, I also get the opportunity to work on graphic design projects like logos, editorial art, or event graphics. Constantly learning new skills is a huge motivator for me in this career.
What challenges have you overcome to get to where you are?
Imposter syndrome is real. There were so many times during my job hunt, and even now in my current role, that I felt I could never be a designer or my work wasn't good enough. I don't know if designers ever fully eliminate that feeling, but it's something I've become aware of and know to work past. Another challenge was overcoming perfectionism. So much of design is about brainstorming ideas, testing them out, and throwing them away when they don't work. Being messy is essential to the process.
What advice do you have for people making a career change through a coding bootcamp?
Always have a beginner's mindset, during the bootcamp and beyond. Especially in fields such as design and engineering, technology changes so rapidly that if you want to remain relevant and produce the best work possible, you have to constantly be learning. For as long as you are a designer, you are a student as well.
Any advice for recent graduates looking for a job?
Network network network! And not just with professional contacts. You'd be surprised at the opportunity that arises from talking to family, friends, classmates, etc. And if they have 2nd-degree connections for you, they can vouch for you in a way that strangers on LinkedIn can't.
And finally, is there anything else you'd like to share?
You're never too old, young, under-experienced, over-experienced, etc. to change it up and do something new. Deciding to change careers was one of the best life decisions I've ever made and I truly encourage anyone and everyone to allow yourself the time to figure out what you want to do in your career and work towards it.
---
Do you want to learn more about General Assembly? Read what alumni have to say on SwitchUp.