What was Cristina Traba Deza's experience at Ironhack?
By:
The SwitchUp Team
Last Updated:
August 21, 2018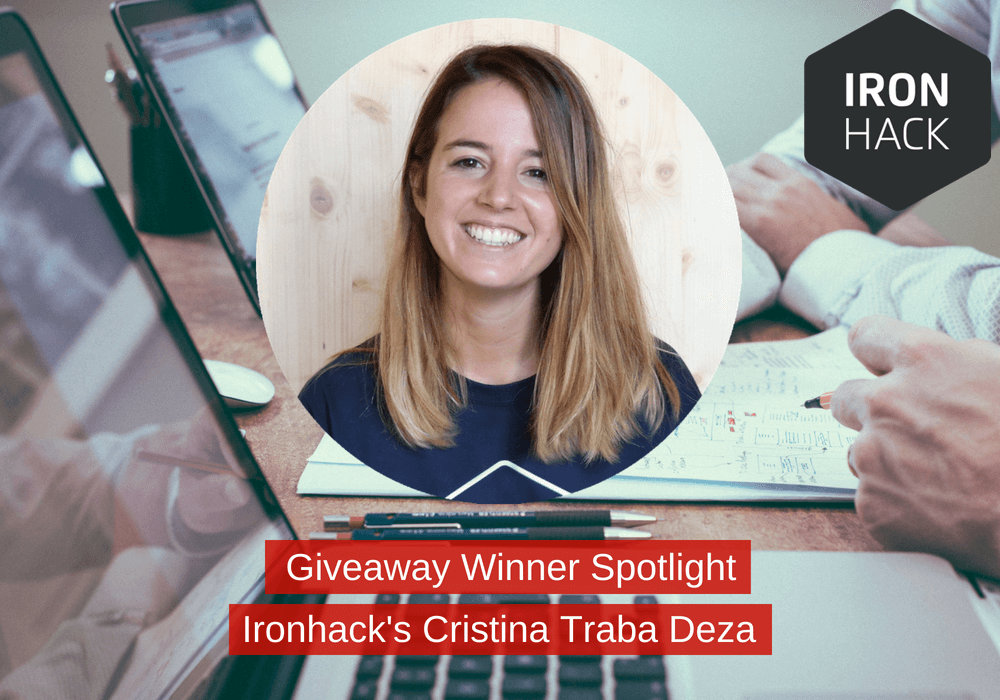 ---
Cristina Traba Deza is a design lover in all its forms. She studied Architecture while working on different architecture firms and just after graduating decided to focus her career on the digital side of design. She attended Ironhack's UX/UI bootcamp. Now she works as a UX designer at Graphext, an amazing Spanish startup developing a user-centered data analytics solution.
Can you tell us how you went from Architecture to UX Design?
I had already heard about Ironhack's Development Bootcamp and it really caught my attention, but I was unsure about changing so dramatically my career. Then they released the UX UI bootcamp and at the beginning, I didn't know anything about UX design. So I started reading about it and I realized it had so many things in common with architecture design.
What inspired you to attend a Ironhack?
By the time I applied to Ironhack they were giving a few scholarships to women that wanted to start a career as developers or UX designers, so I gave it a go. I got into the final cut, but I didn't get the scholarship. I decided to apply anyway because through the selection process I got to know the staff working at Ironhack and even the campus, and it was the perfect studying environment for an intensive bootcamp.
How did you get started in UX Design? Is it something you always wanted to do?
When I saw the new UX Bootcamp that Ironhack launched I didn't even know what it was, so I started reading about it. I always knew I wouldn't be an architect forever. I loved digital design and designing something thinking about the potential user, I just didn't know that that already existed and that it was called UX.
There are quite a few bootcamps to choose from - what made you decide to attend Ironhack over other programs? What were your goals for the program?
I needed something that was in my city, Madrid, and that didn't require a long period of time. Ironhack was perfect for me because I got to learn UX in just 9 weeks. Also, I wanted to have as teachers professionals that were working at the same time they taught and Ironhack offered that.
For you, what were the pros and cons of attending a bootcamp?
I would call every little aspect of the bootcamp a pro, from the way the classes were structured, the number of projects we got to do and of course the Hiring Week that Ironhack has at the end of the bootcamps. Maybe the only con was the high price of the course, but it was absolutely worth it.
Tell us a bit about your experience and the day-to-day during the course: How were courses structured?
We had theory classes every morning and the afternoons would be for working on the projects. We also had a coding week at the end of the bootcamp, which I found very useful.
What was your cohort like?
We were 14 different people from all backgrounds and ages, there was a wedding planner, a movie producer, a sales representative, a chef… It was Wonderfull to share that experience with all of them.
What was an average day in the program like?
We would start at 9 am with the theory class, then at 11, we had a coffee break. Each week was taught by a different teacher specialized in the weeks material ( research, information architecture, design systems…) We stopped for lunch at 1 pm and after that, we resumed the theory class and did the practical exercises. Classes finished at 6, but we always stayed longer with our teammates to work on our team projects.
What was most helpful about the environment and teaching style at Ironhack?
As we had a different teacher each week we got to meet a lot of the best UX professionals and learn from them. It was super easy to reach them if we had any issues and they were always helpful.
What was your cohort like? Did you feel like it was a diverse place to learn? Tell us a bit about the instructors and culture at Ironhack?
It was amazing, we were a very diverse group and it was a perfect environment to learn. Everybody had something to offer to the group and the teachers really made an effort for that to happen. Also, Ironhack culture is amazing, we had events every week. From talks to the famous Ironbeers on Fridays.
You currently work as a UX Designer at Graphext. What does this job title mean and what does it entail?
I am responsible for the design of the software. We are user-centered so our main effort is to design everything we do for our users. We do everything in-house, from research and collecting feedback from our users to designing the wireframes, architecture information, site workflows and visual design.
Did your bootcamp prepare you for the job search, and if so, how?
We had a hiring week after the course and there we had over 20 interviews. Also, they gave us tips on how to approach the interviews.
Tell us a little bit about what you do in your current job. What motivates you in your career?
Right now we are designing new features for our data analytics product. So we are working on defining good workflows for our users and designing a beautiful UI.
What challenges have you overcome to get to where you are?
Working with data visualization is quite challenging on its own, so basically I needed to learn as much as possible about it. But my workmates a very helpful and they made it very easy for me.
What advice do you have for people making a career change through a UX bootcamp?
If they are passionate about it I would tell them to go for it. It is very satisfying to see how something you have designed is being used and actually solves a problem.
Any advice for recent graduates looking for a job?
First of all, don't get impatient, look and consider all your options. A job is something you need to enjoy because that is what you're going to be doing most of the time. It is ok to be picky if that is going to allow you to work at something you really enjoy. And also don't worry if the job is not as you expected, the good thing about digital careers is that the offer is so wide you have plenty of options to change.
And finally, is there anything else you'd like to share?
Only that I wish I could do the bootcamp again!
---
Want to learn more about Ironhack? Check out their alumni reviews on SwitchUp.