What was Francisco Gaivão's experience at Le Wagon?
By:
The SwitchUp Team
Last Updated:
July 30, 2018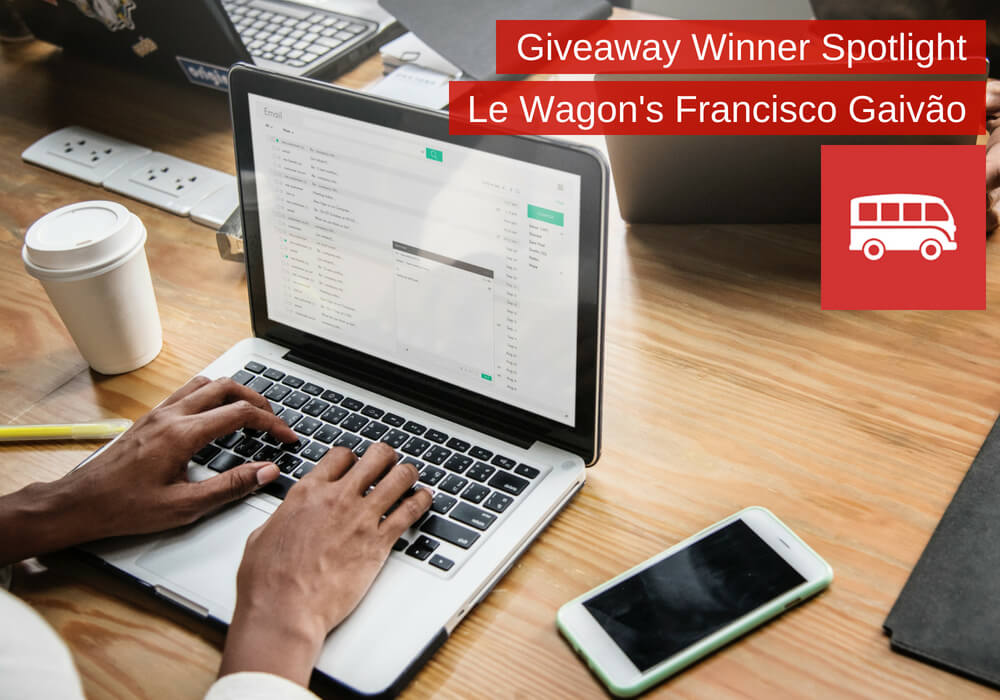 Francisco Gaivão hasn't ever really known what he wanted to do with his life. From high-school through college, he was only in classes because of requirements. When he found coding, everything changed. Francisco had an incredible experience learning at Le Wagon because of the collaborative learning environment as well as the fantastic support. His advice? Never give up! Read more about his technology journey in our interview below:
What inspired you to attend a Le Wagon?
I was not inspired to attend Le Wagon, it was more of a need-based situation. I was looking for a job and I needed to improve my skills and competencies.
How did you get started in programming? Is it something you always wanted to do?
I first started programming because I was curious about it and started to do this in the summer. Then I realized I wasn't making it on my own and jumped right in at Le Wagon because someone told me it was the best thing to do.
There are quite a few bootcamps to choose from - what made you decide to attend Le Wagon over other programs? What were your goals for the program?
I didn't know there were that many programming bootcamps on the market as I know now and this one was the recommended one. My goals were basically to learn how to code properly and leave Le Wagon ready to join the programming area and being able to build websites on my own.
For you, what were the pros and cons of attending a bootcamp?
Pros: Fast, interactive and independent. Cons: it took me 10 (fully) weeks of my life that I couldn't do anything else besides that.
Tell us a bit about your experience and the day-to-day during the course: How were courses structured?
We started with the easiest and simplest things (they were already very difficult for me at the beginning). Every day we would learn new things and when we thought we already knew it like a boss, they would always come up with something new and harder.
What was your cohort like?
International people, friendly, informal, we were all friends.
What was an average day in the program like?
1 hour class in the morning, then practice exercises and at the end of the day. A really cold beer and relaxation wrapped things up ;)
What was most helpful about the environment and teaching style at Le Wagon?
Everyone is always helping each other. No one is left behind and alone. The challenges were always group challenges and because of that the group would wait for the one that was not understanding straight.
What was your cohort like? Did you feel like it was a diverse place to learn?
The cohort was so diverse, with everyone from different countries and even continents. They are all awesome, caring and friendly. I still chat with them nowadays. We still play football once a week since the days we were coding. They are friends and contacts you make for life.
Can you tell us a little bit about what you have been doing since you graduated from Le Wagon?
I started looking for a job right when I finished Le Wagon's bootcamp. I went to a lot of interviews, a lot more than I did before the bootcamp.
Did your bootcamp prepare you for the job search, and if so, how?
Yes. Through workshops. First, a top recruiter went there and explained to us how he did his interviews and one time a lot of recruiters went there and we were able to ask them whatever we liked. You need to keep practicing and never stop. Now I have a job in communications but I keep programming every time I can.
Tell us a little bit about what you do in your current job. What motivates you in your career?
I work in internal communications. It is a job that goes through every department of the company. And it's a big company. What motivates me is always learning new things.
What challenges have you overcome to get to where you are?
First, it was my shyness because I went to a place completely out of my comfort zone and now I am able to accept different and new challenges.
What advice do you have for people making a career change through a coding bootcamp?
The best advice I can give is to not give up, even when you feel like you're not learning anything.
Any advice for recent graduates looking for a job?
When you see a job opportunity, check for exactly what they want and study it hard. Expect that there will be tests.
And finally, is there anything else you'd like to share?
Coding can change your whole life and your perspective on every challenge that you face.
---
If you want to learn more about Le Wagon, read what alumni have to say on SwitchUp.