What was Steve Volbrecht's experience at devCodeCamp?
By:
The SwitchUp Team
Last Updated:
February 20, 2019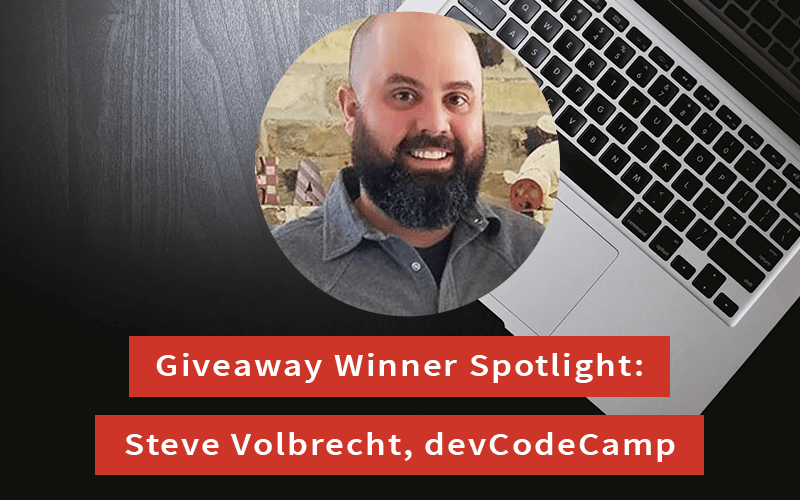 We're pleased to announce one of the winners of SwitchUp's gift card giveaway, Steve Volbrecht!
Steve is a graduate of devCodeCamp, and his interest in tech and his desire to complete a life-changing bootcamp program pushed him to enroll.
As Steve explains, the intensity of his bootcamp could be considered a con, but it was balanced by a clear, straightforward teaching style and nonstop opportunities to learn. For Steve, this approach made the program especially exciting and worthwhile.
We sat down with Steve to learn more about his motivations for enrolling, what he liked about devCodeCamp, and his advice for others.
Tell me about your background. What was your educational experience before joining devCodeCamp?
My educational experience consisted of a few years of sporadic college after high school. The traditional educational structure just did not fit the way my brain is wired.
What made you decide to pursue a career in tech?
Tech has always been something that interested me because it is so important in the world we live in, and it's not stopping anytime soon.
Why did you decide to attend devCodeCamp? What were your goals for the program?
devCodeCamp just seemed to fit my style of learning and more importantly, the time frame I had to devote to school. My goals were simple; I wanted to complete the program and hopefully change my life.
There are an increasing number of available bootcamps. Why did you decide to choose this program over others?
Well, there was only one anywhere near me when I began the program. There is now one other program available, but in my opinion, it does not seem as high-quality as devCodeCamp.
For you, what were the pros and cons of attending a bootcamp?
The intensity would be the only thing that could be considered a con, but that's what I signed up for. The pros are simple - come out of it with a life-changing career.
Tell me a little bit about the course structure. What did you like best about the environment and teaching style?
The teaching style was simple, DevCodeCamp does it's best to get you started and will guide you when necessary to insure you don't sink. I liked the nonstop nature of learning. The pace doesn't slow down until you're done.
How did this program prepare you for a career in tech?
It prepared me by being more intense than any reasonable job will be.
What challenges did you overcome to get where you are?
Just completing the course on time with an infant who didn't(and still doesn't)sleep was an epic feat.
Tell us about what's next. How do you plan to use your newfound skills as you build your career?
The skills you learn are really just a jumping off point. Moving forward, I'm ready to learn anything and everything as my career dictates.
What advice do you have for people who are interested in attending a bootcamp?
Be prepared to give everything. If your bootcamp is anywhere near as comprehensive as devCodeCamp, they will push you further than any previous experience you may have and it will all help you when it's time for the job search.
---
To learn more about devCodeCamp, visit devCodeCamp.com or check out their reviews on SwitchUp.