What was Tyler Fisher's experience at Actualize?
By:
The SwitchUp Team
Last Updated:
February 14, 2019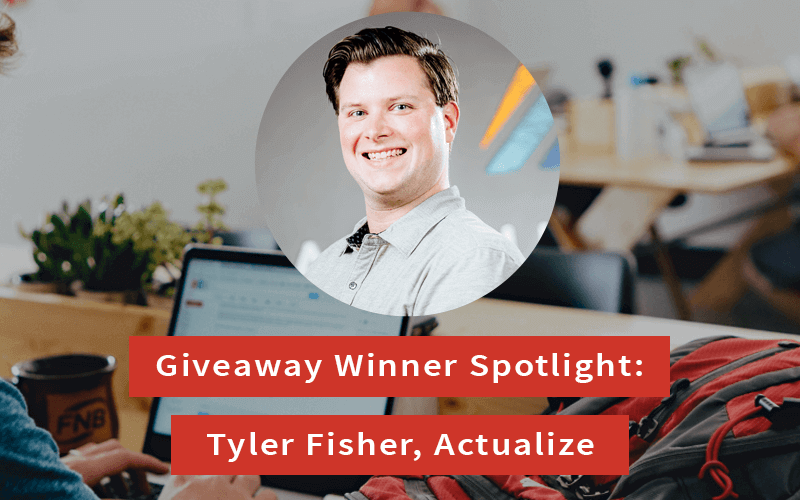 We're pleased to announce one of the winners of SwitchUp's gift card giveaway, Tyler Fisher!
Tyler is a graduate of Actualize web development bootcamp. As a full time Sales Rep for an IT Solutions Provider, Tyler had a longstanding interest in web development. After two years attempting to teach himself web development, Tyler decided to consider a bootcamp education in order to have a structured environment in which to learn.
After seeing Actualize on SwitchUp, Tyler appreciated its emphasis on post-bootcamp career support, and decided to enroll. During his program, Tyler liked the opportunity to produce professional code with trustworthy instructors who had backgrounds in teaching.
We sat down with Tyler to learn more about his motivations for choosing Actualize, what he liked about the program, and his goals moving forward.
Tell me about your background. What was your educational experience before joining Actualize?
Prior to, and during my time with Actualize, I have been a full-time sales rep for an IT Solutions Provider. I graduated from Miami University in 2010 with a degree in Political Science. In relation to my interest in Coding and web Development, I had begun trying to teach myself the fundamentals of web development around 2016.
What made you decide to pursue a career in tech?
I've always had an interest in technology and coding, dating back to high school when I would spend my time on the internet. I was very interested in message boards after getting into video games. As a teen I imagined that I would pursue a career in game development before my interests shifted.
Why did you decide to attend Actualize? What were your goals for the program?
I decided to attend Actualize after I spent two years attempting to self-teach myself web development, but couldn't maintain the discipline. Because I couldn't keep my focus for longer than a month or so, I realized I needed a structured environment. My goals going into it were to successfully transition from my current career into a career in software development.
There are an increasing number of available bootcamps. Why did you decide to choose this program over others?
I initially began seeing ads on Facebook, Instagram, and other internet gathering places for the Northwestern Coding Bootcamp. After looking into bootcamps, and that one in general, I was led to SwitchUp and other review websites, and found that Chicago actually had a few decent options. Actualize appeared to be one of the leading bootcamps nationwide. Additionally, Actualize emphasizes the post-bootcamp career support, and spends a significant amount of time assisting in finding a job.
For you, what were the pros and cons of attending a bootcamp?
Attending a bootcamp worked within the current structure of my day-to-day life. I didn't have the flexibility to quit my job or go back to school, so having an evening option was crucial. Additionally, the time commitment, while significant on a daily level, was insignificant on a yearly level, as it is a 3 month commitment.
The primary con would be the stigma associated with bootcamp grads. Additionally, there is more to learn than what can fit into a three month curriculum.
Tell me a little bit about the course structure. What did you like best about the environment and teaching style?
For the first six weeks of the twelve week program, we learned in a classroom setting on Sundays from 9:00-5:00, and Mon-Thurs. From 6:00-9:30. We focused on one concept at a time, and split the classroom structure between learning the concept, and applying the concept via an exercise. The second half of the program split time between the classroom setting, and our own time to develop an app independently of the group.
I loved the pace of learning, and the trust to set us free and develop our own app. The instructors all have a background in teaching which allowed us to have a level of trust in their curriculum. Additionally, they demonstrated clear knowledge in coding and programming. Their trust in allowing us to develop our own app in a few weeks was a great experience.
How did this program prepare you for a career in tech?
Beyond having the ability and confidence to produce professional code, we were taught how to code in pairs, and mob style. They emphasized the ability to think like an engineer, and approach problems with creativity and a primary skill set to solve the problem. We spent time understanding the interview process and they emphasize networking with other developers so we can understand what a career in tech looks like.
What challenges did you overcome to get where you are?
The time commitment of pursuing a career change while still performing at a full-time job that is results oriented was extremely challenging, in addition to recognizing that I wasn't passionate about my current career. Acknowledging that lack of fulfillment was a tough step to take, but I have no regrets.
Tell us about what's next. How do you plan to use your newfound skills as you build your career?
My immediate goal is to pursue a career in technology as a software developer. I want to continue learning on the job, and be part of the tech community in Chicago.
What advice do you have for people who are interested in attending a bootcamp?
Do your research! There are a lot of bootcamps popping up all the time as public desire to learn to program grows, and not all programs are equal. Beyond that, commit fully to the pursuit, and don't be afraid to foster a sense of community amongst the other students that are attending the bootcamp with you. I was lucky to be with a great set of peers and we all looked out for each other, helped each other with challenges, and we had a great time.
To learn more about Actualize, visit AnyoneCanLearnToCode.com or check out their reviews on SwitchUp.