What was Vicky Szuflita's experience at Metis?
By:
The SwitchUp Team
Last Updated:
October 26, 2018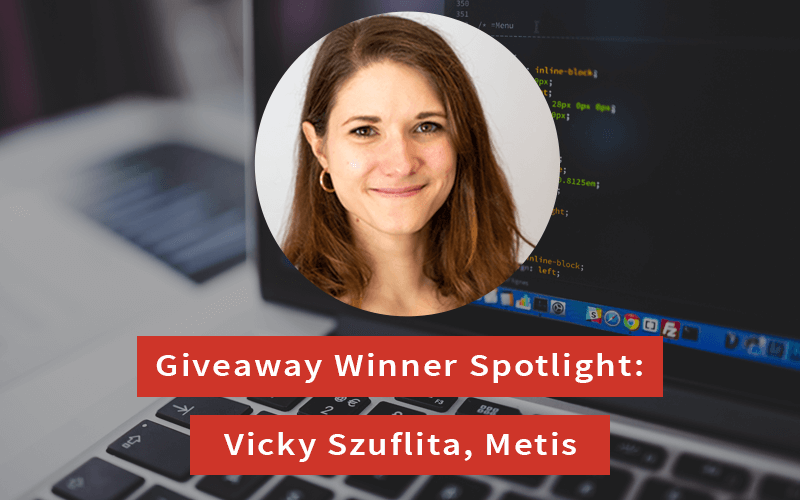 We're pleased to announce one of the winners of SwitchUp's gift card giveaway, Vicky Szuflita!
Vicky is a graduate of data science bootcamp Metis, and previously worked in account planning for an international advertising agency. While Vicky loved the creative aspects of an agency career, she wanted the skills to strengthen her ideas in a more quantitative way.
As Vicky explains, "I loved the role I was in -- it was creative and very interesting. However, I never interrogated my ideas or insights using empirical evidence as deeply as I would have liked. My job required me to read a lot about culture and news, and it felt like everywhere I turned, in every industry, people were using data in amazing ways and I desperately wanted to be a part of it."
Vicky spent a few months learning everything she could about data science, and eventually decided to attend Metis based on a strong recommendation from a data scientist in her office.
We sat down with Vicky to learn more about her career change, what she loved about Metis' project-based approach, and her new role on the The Democratic Party's data team.
Tell me about your background. What was your professional and educational experience before you joined Metis?
I studied cognitive science and marketing in college. Aside from a few required statistics and introductory coding classes, I did not have much of a technical background. After graduating, I worked in advertising for two and a half years, which required a lot of creative problem solving and design but really no requirement to pull and analyze data on a deep level.
What made you decide to pursue a career in data science?
I loved the role I was in -- it was creative and very interesting. However, I never interrogated my ideas or insights using empirical evidence as deeply as I would have liked. My job required me to read a lot about culture and news, and it felt like everywhere I turned, in every industry, people were using data in amazing ways and I desperately wanted to be a part of it. I wanted to use data in my role, but had no idea of where or how to get it or use it.
There are an increasing number of bootcamps that teach data science. How did you decide on Metis over other programs?
I spent a few month trying to see what I could learn about data science on my own. I took one online course with a different bootcamp company. It was interesting but not very challenging, and the online format didn't hold me very accountable.
I finally approached the data scientist at our office, asking how he developed his skills and he said he did Metis. The decision to apply came to me pretty fast and honestly without much thought -- but I became driven to be in the spring cohort. It felt like a really big step, but it was the right moment to go for it.
Talking with him, he highly recommended the program and said he believed Metis was the most rigorous of the data science bootcamps. I had learned a little about Metis during my search for that first online course, but his recommendation really solidified my decision.
Tell us a little bit about daily life at Metis. What did you like best about the environment, curriculum, and teaching style?
In the morning we'd do pair programming -- we'd be assigned a partner for the day to tackle a coding problem. It was a really good way to get to know the other students, and learn something new each day. Then we'd have a few hours of lecture, on the model or data collection technique we'd be using for that project. The afternoon was project work, which I liked the best because it required you to put the theoretical to work and test the skills you learned that morning.
I can not speak more highly about Metis' project-based approach. It was truly the best way for me to learn (putting theory into practice), and now I have an arsenal of examples of different models I've run and different techniques I've tried. It was hard work. The self-guided aspect was a double-edged sword -- you are responsible for all the work yourself, but this forces you to push through the challenges and confusion. It was uncomfortable at the time, but very very worth it in the end.
On the other side of the coin, there were other student with a lot more experience with coding analytics than me. Project work allows people with a range of backgrounds to not only focus on the topics they would like to research, but choose the intensity they'd like to bring to the assignments, too.
Could you tell us about your favorite project while at bootcamp?
The project I'm most proud of was my baseball prediction model. Given a Cardinals player, a type of pitch, and a place in the pitch zone, the model predicts whether or not the ball will be put in play or not. This was by far the most challenging project. The API I was getting the data from was so confusing, and we had to do a visualization and a flask application to present our findings. But in the end it turned out exactly as I wanted and I was really proud of it.
For you, what were the pros and cons of attending a bootcamp?
There were so many pros. For someone thinking about data science as a career, or even just using data to inform their job, the number of skills you gain, on top of the community you become a part of, is invaluable.
It is expensive, but the return on investment is greater than the cost. For me, the caliber of jobs I was eligible for after was in a completely different range, and these are skills I can continue to use no matter what I do long term.
It definitely is a time commitment, and quite stressful, especially in the beginning. But if you're willing to try your best and give it your all for those three month, the rapid timeline becomes a real strength. You're able to get so much done in a focused three months!
How did Metis help prepare you for the job search?
The Metis staff were amazing at helping us find placement after the program. We had weekly check-ins and a lot of help reviewing the materials we submitted. The job search is never easy, but everyone at Metis really has your best interest at heart, and the alumni network is very helpful and friendly as well.
Where are you working now?
Right now, I am working on the data team for the Democratic party in North Carolina. I used election data in my final Metis project, and it was something I was very interested in. I knew I wanted to work on the elections, and with the skills I gained at Metis, I was able to secure a position doing work for the midterms fairly quickly.
What challenges did you overcome to get where you are?
I suffered from extreme imposter syndrome. Many of the other students came in with coding or math backgrounds, and I hadn't taken a math or coding class since college (and had promptly forgotten all I learned). I studied before the entrance exam, and spent quite a bit of time on the pre-work. It wasn't until after the third project that I was convinced I could do it and be successful. The greatest thing I learned was even though I didn't have the same technical skills as other students, the communication, creative thinking and design skills I had from my advertising role were huge strengths in their own way. Being able to present my work and get support and feedback was really helpful and ultimately affirming.
What advice do you have for people who are interested in attending a bootcamp?
If you're interested you should go for it! I know it's so easy to say that from the other side -- I had to change quite a lot to do Metis. I left my job of two years, moved to Seattle and put in an incredible amount of time and energy (and money) for a hectic three months. But I wouldn't have changed a thing!
I will say, at the time it was incredibly hard. But remember: hard is not impossible. I was so convinced that I was one day going to hit a wall, where it would all of a sudden become too much to handle. But just keep on going, and believing you can do it, and you'll be glad you did!
Everyone always says you get out of Metis what you put into it and I couldn't agree more. Give it your all and you will be rewarded!
---
To learn more about Metis, visit thisismetis.com or check out their reviews on SwitchUp.