June 23, 2020
What is it like to learn on a virtual campus?
The last few months have been all about adapting to new ways of living and doing business. To create a safe learning environment, Flatiron School has temporarily transitioned their on-campus classes. With words like 'online' and 'virtual' sounding synonymous, we decided to break down the education vocabulary in real time.
1. What is the difference between learning on the virtual campus and learning online?
The main difference between the programs are the length of the course, their pace, and your geographic relationship to your classmates. Virtual campus programs are shorter in duration (so you graduate more quickly). These classes run on a more intense schedule, offering less flexibility than the online courses, but your classmates will be local to where you live and become your in-person classmates when campuses can re-open. In comparison, online programs are longer in duration (5 to 15 months), offer more flexibility using a mostly asynchronous learning environment, and have geographically diverse cohorts.
2. What will my day look like on a virtual campus?
Your day will start off with a collective morning Zoom meeting and will wrap up with an end-of-the-day group call. This allows you to connect with your classmates and instructors. Staff will take attendance and outline what will happen that day. Just like on campus, there will be lectures, you'll take notes, and ask questions in the chat where the teacher can answer them as they come up. You can expect to work on both individual and group assignments, and if you have any questions, you'll be able to attend office hours. Every day is different, but you can see a sample day below:
Sample Day
9 a.m. - Student-led discussion
Begin your day with an open discussion when you can ask questions and review new skills and program materials from the day before to ensure you're up to speed.
10 a.m. - Lecture
Learn key concepts from your expert instructor through interactive exercises and collaborative discussion.
1 p.m. - Pair-programming exercises
Work together with a partner to build your strategic and tactical coding skills and learn from one another.
4 p.m. - Labs & mini projects
Explore your own coding projects based on the material from the lecture during self-led labs. Learn from professors, then immediately put what you learned into action. Making things is the best way to learn things.
6 p.m. - Homework
End the day reviewing concepts and strategizing the next steps in your personal projects.
3. How often will I have class?
Every day, just like on campus. You'll notice on Zoom that most students maintain their coffee ritual!
4. Will I be on Zoom all day?
As businesses have adapted to respond to the pandemic and social distancing guidelines, video calls have become the new normal. Students very rarely spend all day on camera / on Zoom. Each day will be different, so you can expect to work independently sometimes and other times attending lectures (just like in class). We completely understand that this is an unusual time and that you may be sharing your space with family or roommates right now. Though it's understandable to pop out from time to time, we request everyone to keep their cameras on for the duration of the Zoom calls. Not only does it help the teacher to understand everyone's comprehension, but it also allows you to interact with your classmates. Additionally, since a lot of companies are hiring remotely right now, this format is preparing you for the real-world distributed work.
5. How is this different from the online program?
To compare our virtual campus program and online programs side by side, check out this graphic below: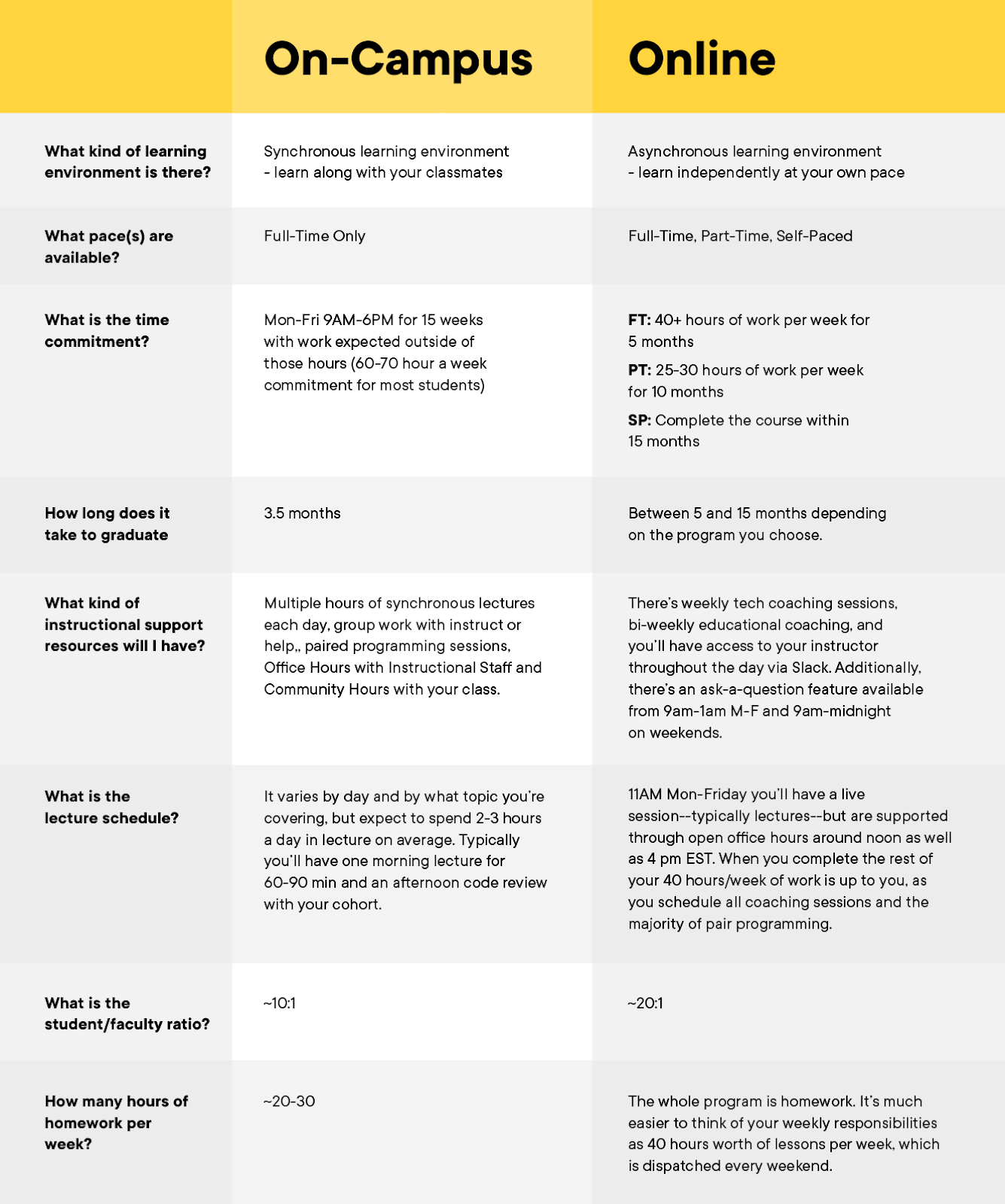 This post was sponsored by Flatiron School. To learn more about Flatiron School, visit flatironschool.com or check out their reviews on SwitchUp.