Which Springboard Data Course is Right for You?
By:
Last Updated:
September 11, 2019
At Springboard, we've developed several courses that teach students the skills they need to get jobs in different data-focused roles.
Which Springboard data program is right for you?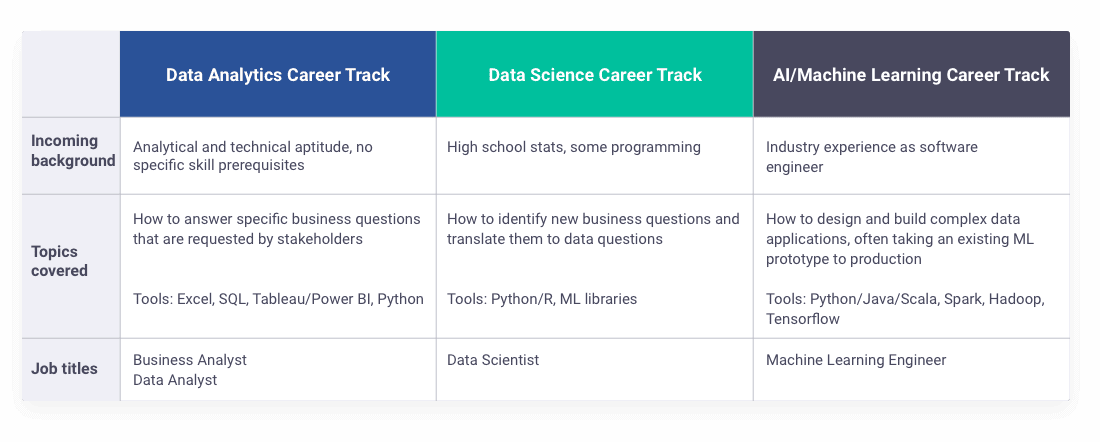 The Data Analytics Career Track, developed in partnership with Microsoft, teaches all the necessary technical skills to become a data analyst. The 400-hour program also prioritizes structured training in business analysis. The curriculum, designed alongside experts from McKinsey, Bain, and Wharton, will help you develop business thinking skills so you can break down complex problems and test solutions.
Prerequisites: You should possess strong critical thinking and problem-solving skills, and have at least two years of professional experience working regularly with office, design, or programming tools.
The Data Science Career Track prepares you for your first job as a data scientist by guiding you through hands-on learning and data science projects. This is an intensive program with a 500+ hour curriculum designed around 14 projects. You'll master the Python data science stack, tackle advanced data science topics, and choose a specialization that aligns with your career goals.
Prerequisites: You should have a strong background in probability and statistics, and be very comfortable programming (in any language)—comfortable enough to pick up a new language using resources on the web.
The Machine Learning Engineering Career Track offers a rigorous and deeply technical curriculum, teaching you the foundations of machine learning and deep learning. Of the 400 hours of overall work we estimate it will take to complete this course, 100 hours go toward a capstone project. You'll build and deploy large-scale AI systems with guidance from an experienced machine learning engineer currently working in the industry.
Prerequisites: You should have at least one year of professional software engineering experience using a general-purpose object-oriented programming language, such as Python, Java, or C++. You should also have completed university-level courses in statistics, linear algebra, and calculus.
No matter which course you choose, you'll enjoy weekly one-on-one calls with your personal mentor (plus unlimited access to additional mentorship), one-on-one career coaching both during the course and for six months after graduating, as well as support from student advisors, community managers, and your fellow learners.
And each course is backed by our job guarantee—if you don't find a job within six months of graduating, we'll refund your tuition.
Ready to get started but need more programming experience? Check out Springboard's Data Science Career Track Prep course. This 4-6 week course helps students build stats and Python programming skills to kick start the journey to a data science career.
---
This post was sponsored by Springboard. To learn more about Springboard, visit Springboard.com or check out their reviews on SwitchUp.