What was Kamylle Grenier's experience at Concordia Bootcamps?
By:
The SwitchUp Team
Last Updated:
August 13, 2018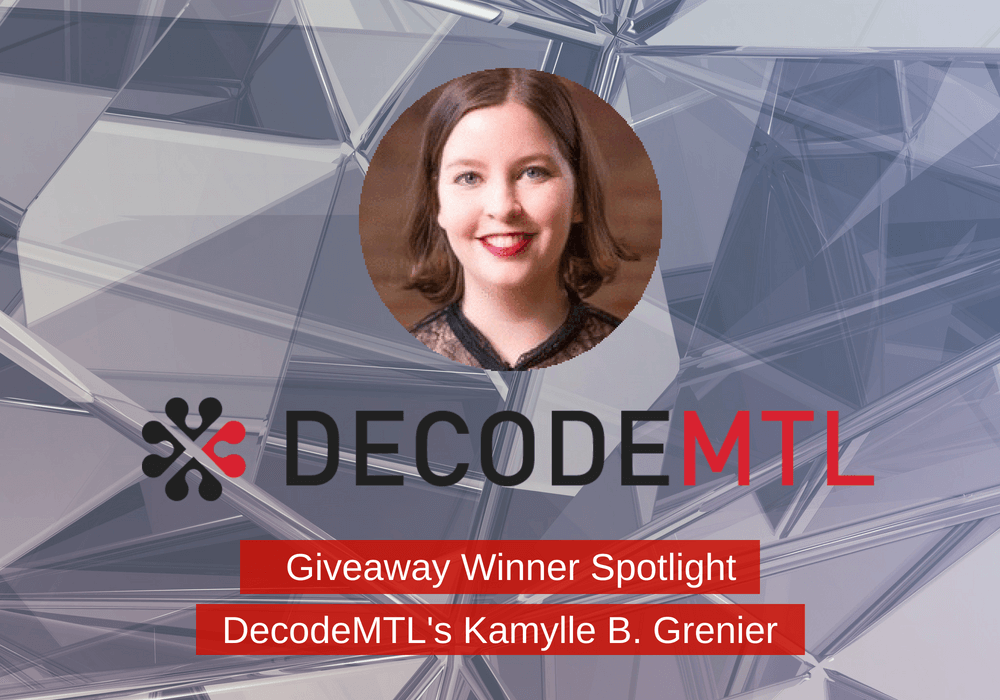 ---
Kamylle is a frontend developer, a UI/UX designer, a Montréaler, a video game maker, a game jammer, a cookie decorator, a swing dancer, a VR enthusiast, a cat lover and a french speaker. She attended DecodeMTL's program, which is now Concordia Bootcamps, and now works at MediaClip as a UX/UI Designer and Integrator. Learn more about here on her website: kamylle.com.
Can you tell us how you went from studying environmental design to web development?
Well I started as a graphic designer, but I've always been interested in Architecture and Industrial design. Environmental design combined all of this. I was super interested in it but it was very hard to find a job in the field. So I came back to graphic design. Graphic design led me to UI/UX design. UI/UX design helped me discover programming. I attended a few game jams (making a video game in 48h) and I loved it. Learning programmation seemed to be a natural progression from UI/UX design and video game making.
What inspired you to attend DecodeMTL?
I had a coworker that was super competent that went trough DecodeMTL. I did a bit of research and asked my friends and it seemed to be the best choice considering my needs.
How did you get started in web development? Is it something you always wanted to do?
I started when I was working as a Designer and I ended up doing more and more integration and it was very fun.
There are quite a few bootcamps to choose from - what made you decide to attend DecodeMTL over other programs? What were your goals for the program?
I was looking for a Javascript class since it's the most common language for web. Decode seemed to be the most fitting for my needs.
For you, what were the pros and cons of attending a bootcamp?
Pros :
Quicker registering process than "normal" school
Shorter session than "normal school"
More motivating than learning by myself
Cons :
Tell us a bit about your experience and the day-to-day during the course: How were courses structured? What was your cohort like? What was an average day in the program like?
There was 3 weeks of frontend, 2 weeks of backend, and 3 weeks of projects. We were 18 students, only 3 women. Classes from 10h to 14h then working on our homework with the help of the T.A.s from 14h to 21h then finishing homework at home until midnight.
What was most helpful about the environment and teaching style at DecodeMTL?
There was a lot of small projects to work on as homework. It was easier to learn with concrete exercises.
What was your cohort like? Did you feel like it was a diverse place to learn? Tell us a bit about the instructors and culture at DecodeMTL?
Most people in the cohort were nice. It wasn't very diverse though (only 3 woman of 18 students, and very few minorities). Almost everyone was around 30 years old, from very diverse backgrounds. The teacher was very nice. Half the T.A.s were great, the other half was very bad.
You currently work as a UI/UX designer & Integrator at MediaClip. What does this job title mean and what does it entail?
I'm responsible for the user experience and the user interface design. I plan what the app will look like and make sure it's easy to use. I also integrate the designs into the app with CSS, HTML and Javascript.
Did your bootcamp prepare you for the job search, and if so, how?
Yes, we had classes about taking the right angle for our job search depending on our backgrounds and expectations, it helped a lot.
Tell us a little bit about what you do in your current job. What motivates you in your career?
I get to do half design, half programming, and I love it. I love learning, and development. It's the perfect job to make sure I keep learning every day!
What challenges have you overcome to get to where you are?
Being a woman in tech is hard. People don't realise how hard it is to be a minority in a field full of prejudices and mean people. I'm very lucky to have found a job with a great culture and I'm very happy now.
What advice do you have for people making a career change through a coding bootcamp?
Give everything you have, those few months pass very quickly. Make sure you get the most you can from it.
Any advice for recent graduates looking for a job?
Trust your gut. Don't take a job if you don't really feel it, you'll get the right opportunity eventually.
And finally, is there anything else you'd like to share?
Nope, thanks!
---
Want to learn more about DecodeMTL? Check out their alumni reviews on SwitchUp.