What was Derek Ball's experience at Tech Elevator?
By:
The SwitchUp Team
Last Updated:
April 24, 2019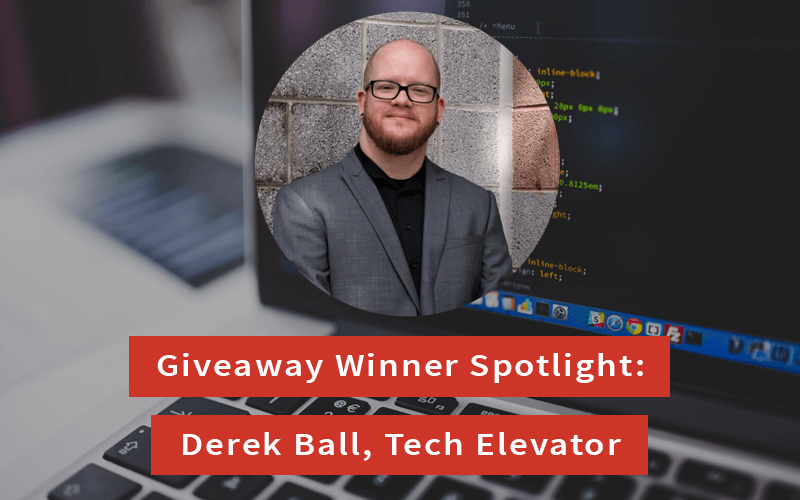 We're pleased to announce one of the winners of SwitchUp's gift card giveaway, Derek Ball!
After launching a successful early career as a musician, Derek decided to follow a lifelong passion for technology and pursue a new career in software development.
Derek was saving money to go back to school when he heard about Tech Elevator. He was enticed by Tech Elevator's 90% job placement rate, great reputation, and positive reviews, and realized that the bootcamp could help him make a career change while avoiding student debt.
We sat down with Derek to learn more about his background, what he loved about Tech Elevator, and his goals to combine his passion for music and his newfound programming skills.
Tell me about your background. What was your educational and professional experience before joining Tech Elevator?
I went to school for Music Education and had an opportunity to join a touring musical act. I followed through on this for about 7 years, but as many things in life, all good things must come to an end. I continued waiting tables trying to save more money to go back to school, but heard about Tech Elevator and decided that a career in technology was the way to go.
What made you decide to pursue a career in tech?
I've always been technically minded as I grew up playing on computers all my life. My father was also into technology, so I began using computers in the DOS era and have seen the vast shift in technology over the years. Because of this, I was the one that my friends always turned to when they needed something technical. As the years passed and my music career began to bloom, I realized the value of digital marketing. I got more into online promotions and then further into website development to help my career. It was like coming home to my first passion and as the desire for a music career waned, my desire for a technology career rose.
Why did you decide to attend Tech Elevator? What were your goals for the program?
I decided to attend Tech Elevator after determining that I wanted to go back to school, but was hesitant to take on crushing student loans. After doing some research, I decided that a trade skill of some kind would have the best risk vs. reward, and time vs. financial investment. The arc of my life led me into coding, and the whopping 90% job placement rate led me to Tech Elevator. My goals were simple: push myself to the highest degree and build a better life. The preparatory coursework showed me the thrill of complex algorithmic problem solving, and I was hooked from that point on.
There are an increasing number of available bootcamps. Why did you decide to choose this program over others?
Two things persuaded me to go for it:
Tech Elevator has the highest national job placement rating for bootcamps: 90% success rate of job placement with the Columbus branch being their flagship
Every SINGLE person I mentioned my plan to not only had heard of Tech Elevator, but mentioned they heard positive things.
For you, what were the pros and cons of attending a bootcamp?
Pros would include building a new skill, career, and future, as well as learning the depth of what I was capable of when I pushed myself. I also appreciated the reward of solving complex problems and building applications from my work.
Cons would include the intensity of the course, as well as trying to land a first job when I could display potential but did not have real world experience. I also found it challenging to learn so much, yet I felt there was so much I had yet to dive into. The tech world is a BIG pond to swim in.
Tell me a little bit about the course structure. What did you like best about the environment and teaching style?
The course structure is laid out in what Tech Elevator calls "modules." Each module represents a different technology stack or language and how that can be implemented into your previous studies. I really enjoyed some of the real world stories of what it is like in the tech industry. Going from a non-professional career to a highly corporate world can be scary, but getting the inside scoop made it become more realistic and less out of my reach.
How did this program prepare you for a career in tech?
Not only do they teach you the most basic fundamentals of coding and web application development, they also have what's called the "Pathway Program." In my opinion, this was single-handedly the most valuable aspect of the entire course. The Pathway Program taught me all the fine points of being a professional in the tech industry. This included proper interviewing techniques for both behavioral and technical interviews, resume building, developing an online presence, and learning how to connect with the right people so that you stand out during the interview process. It also demonstrated the value of networking events, and helped me feel fully prepared to represent myself as a technical professional.
What challenges did you overcome to get where you are?
Pushing myself to the absolute limit of my work ethic within the cohort was one thing, but landing the first position was the hardest struggle. Many companies require very experienced technicians: the only problem is that software programming is one of the most in-demand and fastest growing career fields there are. Some projections have even shown that by the year 2020, there will be 1.4 million jobs available with only about 450,000 people to fill those jobs.
Tell us about what's next. How do you plan to use your newfound skills as you build your career?
I plan on continuing to learn, grow and develop until I become skilled and established enough to pay it forward and give an opportunity to a student like myself. I want to see someone develop their career and life from the ground up and give them the skills and environment to do so. I also continue to play music, but have transitioned into a more electronic and production realm. My goal is to build an arcade style game controller (joystick, buttons and all) and then program it as a digital instrument. That way when I'm on stage, it looks as though I'm playing Pac-Man, but it will actually be producing music!
What advice do you have for people who are interested in attending a bootcamp?
Prepare yourself! I mean this in every aspect. Notify your friends and family members that you might have to be less involved in social events for a while, because outside of coursework you'll be attending networking events. I would also recommend that you save up some additional money to tide you over during the time you won't have a job. Make a consistent meal plan so as to not spend all your money eating out, or giving-in to junk food.
Overall, learn all you can! The main tech stack is Java/.Net, PostgreSQL, HTML5, CSS, Javascript, JQuery and MVC controller patterns. The best thing you can do is just prepare yourself mentally, physically, financially, socially and technologically so that the process will be as smooth as possible. BREATHE, and have fun!
---
Are you a bootcamp student or alum? You could be our next giveaway winner! Write a review of your program, and you'll be entered to win an Amazon gift card.