What was Gemma Comito's experience at Thinkful?
By:
The SwitchUp Team
Last Updated:
January 28, 2019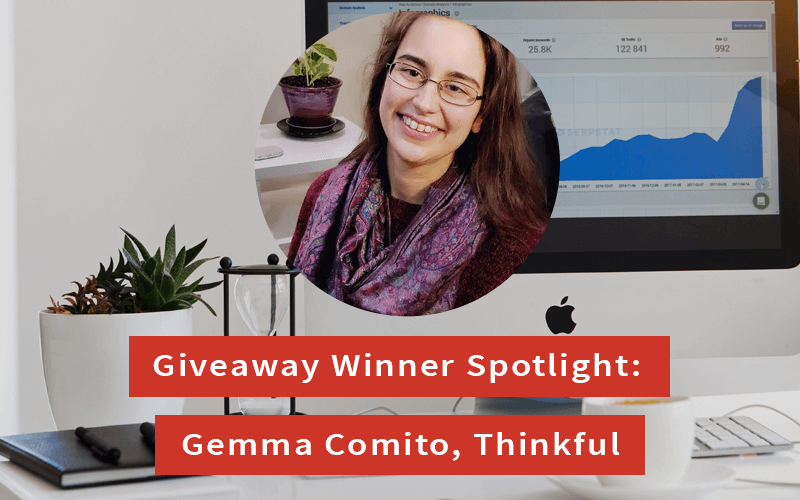 We're pleased to announce one of the winners of SwitchUp's gift card giveaway, Gemma Comito!
Gemma is a graduate of Thinkful's Data Science Bootcamp. After completing a Bachelors in Linguistics, and considering a Master's program, Gemma decided that Thinkful was the "most efficient and practical way to prepare for the Master's program" she was interested in. Thinkful offered Gemma a cost and time effective route to gain the technical requirements necessary for her Master's program of interest.
As Gemma explains, the "flexible schedule, mentor, price, and six month job guarantee" were attractive features of Thinkful's bootcamp, and contributed to her choice to dive in with Thinkful, as opposed to another program.
After completing her bootcamp, Gemma has goals to learn more about natural language processing and get involved in her local tech community. Ultimately, she would "love to work with others on projects to benefit [her] community".
We sat down with Gemma to learn more about her experience with Thinkful.
Tell me about your background. What was your educational experience before joining Thinkful?
Prior to enrolling in Thinkful's bootcamp, I had completed a B.A. in Linguistics and minored in Arabic and Sociology. I had also taken a couple of intro level computer science courses as prerequisites for a master's program I was considering enrolling in.
What made you decide to pursue a career in tech?
Growing up, I had been interested in coding and computers as a hobby, but I never really considered it seriously. I ended up in a job that included a small amount of data analysis, which piqued my interest in that field, but I also wanted to continue studying linguistics. I found a master's program that combined both of these fields, and that's kind of where I started seriously considering a career in tech.
Why did you decide to attend Thinkful? What were your goals for the program?
I decided to attend Thinkful because it seemed like the most efficient and practical way to get to the master's program I was interested in. I would complete some of the program's technical requirements through the course material, in a much shorter timeframe then if I took a traditional approach, and with a much smaller financial impact. However, over the course of the program I realized more of the possibilities within the field, and my goals and interests shifted a little bit as a result.
There are an increasing number of available bootcamps. Why did you decide to choose this program over others?
I chose Thinkful after looking into the curriculum, because it covered the topics that I heard were most important for my field of interest. I also appreciated the flexible schedule, mentor, price, and six month job guarantee.
For you, what were the pros and cons of attending a bootcamp?
A big pro was being able to do the work on my own schedule and at my own pace. And to be honest, in some ways, this was a con as well. Sometimes pacing myself was difficult when I was stuck on a topic or didn't have time because of other responsibilities. On the other hand, having a flexible, self-driven schedule also allowed me to spend more energy and time on what was interesting or what was challenging for me.
Tell me a little bit about the course structure. What did you like best about the environment and teaching style?
The course was completely online, and the materials included informational and interactive lessons, resources to learn and/or practice more, and various projects to synthesize the material. An important part of the course was meeting with a mentor over video chat two times a week to go over assignments, and ask questions about the material. I really appreciated having the help of a mentor both with the course material directly, and also through hearing about his experience in the field.
How did this program prepare you for a career in tech?
I feel like the program gave me a really strong foundation/starting point for a career in tech, resources to learn more on my own and continue learning, and a community to learn from and engage with. It also helped me know generally what to look for and what to expect in the field, and gave a lot of very valuable help with job hunting, interview preparation, etc.
What challenges did you overcome to get where you are?
Over the timeline of the course, I faced some personal challenges, in addition to having a challenging work schedule that was a bit of a struggle to balance with the coursework. Also, getting discouraged by some of the more challenging parts of the curriculum would've been easy at many points.
Tell us about what's next. How do you plan to use your newfound skills as you build your career?
I'm working on continuing my learning, specifically in the topics that most interest me like natural language processing, and trying to get more involved in the local tech community. I would also really love to work with others on projects to benefit my community.
What advice do you have for people who are interested in attending a bootcamp?
I would recommend learning as much as you can about the bootcamps that interest you, including looking into their outcomes, their curriculum, comments from past students - both negative and positive - as well as comments from people already in the field. If one really appeals to you, and you feel like you have the time and motivation to dedicate to it, then go for it.
---
To learn more about Thinkful, visit Thinkful.com or check out their reviews on SwitchUp.