What was Helen Tubridy's experience at CareerFoundry?
By:
The SwitchUp Team
Last Updated:
April 19, 2019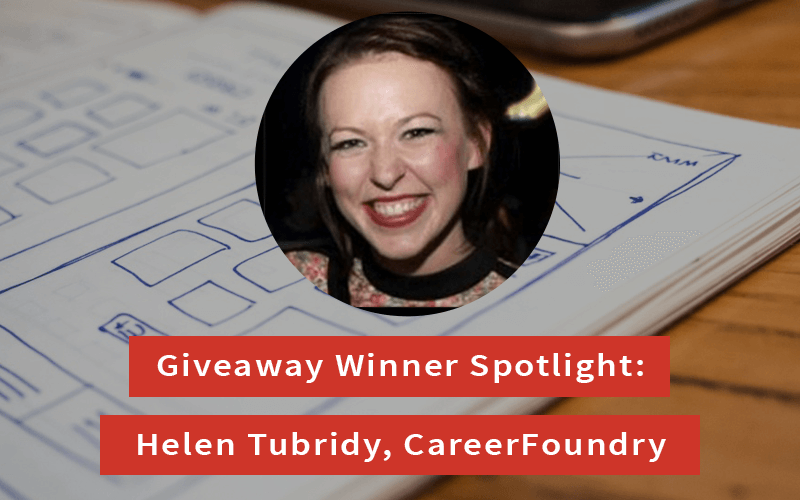 We're pleased to announce one of the winners of SwitchUp's gift card giveaway, Helen Tubridy!
Helen is a graduate of online bootcamp CareerFoundry, and decided to switch careers after several years working as a graphic artist in fine arts, film, and television.
Helen's work in Television afforded her many exciting opportunities, such as designing sets and graphics for popular shows like Game of Thrones and The Frankenstein Chronicles. Though as Helen explains, "I loved working in film & TV but the work could be very intense and sometimes unreliable, and I wanted to make a change to something more stable and that would broaden my horizons to where and how I worked."
Helen wanted to take her self-taught digital skills to the next level, and she was drawn to CareerFoundry's excellent reviews and the opportunity to work with a mentor. Three months after completing the program, Helen is now settling into her new role as a Junior UI/UX designer at Berlin-based IT company CrossEngage.
We sat down with Helen to learn more about her career change journey, and how CareerFoundry helped her gain the skills necessary to make it possible.
Tell me about your background. What was your educational experience before joining CareerFoundry?
My background is Fine Art & Design. I studied Fine Art Painting at Art School, and after graduating I worked as a Visual Artist and co-ran a gallery space. I really enjoyed working on large collaborative projects and for this reason became interested in film, where I worked as a Graphic Artist across a range of productions in large and small design teams.
What made you decide to pursue a career in UI/UX design?
I loved working in film & TV but the work could be very intense and sometimes unreliable, and I wanted to make a change to something more stable and that would broaden my horizons to where and how I worked. I worked a lot digitally but everything was self taught so I wanted to solidify my existing skills and do something different.
Why did you decide to attend CareerFoundry? What were your goals for the program?
First and foremost to inform myself, learn some new skills, and try something new.
CareerFoundry had excellent reviews and their mentoring made the course really appealing to me. Also, the money-back guarantee gave me extra confidence to try out something new and really feel like I had nothing to lose.
There are an increasing number of available bootcamps. Why did you decide to choose this program over others?
I felt it had the best reputation amongst the others I investigated and the support staff were really helpful with any queries I had. I am also based in Berlin, so while it is a completely online bootcamp I felt reassured by its reputation and networks within the city.
For you, what were the pros and cons of attending a bootcamp?
Pros: that you can work completely to your own schedule, no attending classes at a fixed time etc. I had a really excellent mentor and tutor who were extremely supportive. Cons: it can feel a little vague and lonely working online to your own schedule. The slack channels and online communities are great but sometimes I found that tough. It takes a lot of self motivation.
Tell me a little bit about the course structure. What did you like best about the environment and teaching style?
Each student is assigned a tutor and a mentor. The student works through small assignments that are assessed by the tutor who sends written and recorded feedback. These assignments build up to a larger task that is then assessed by the mentor who provides written and recorded feedback, as well as feedback via Skype calls. The larger task pieces all work towards building your new portfolio. I found the interactions with my tutor and mentor really valuable.
How did this program prepare you for a career in tech?
It enabled me to learn all of the skills, tools and processes necessary to become a UI Designer while building a portfolio of projects. The Job Preparation Course at the end helped me to take this portfolio and build a professional application package to start applying for jobs, preparing for interviews and ultimately find a job as a UI/UX Designer.
How does your previous experience influence your work in UX/UI design?
My previous experience has given me varied experiences of planning and working through the creative process as an individual as well as part of a team. This has helped me to communicate my ideas effectively and be an empathetic team member which are essential skills in UX/UI Design.
What challenges did you overcome to get where you are?
Crisis of confidence when trying something new, feeling unsure if I've made the right move and going through the highs and lows of job hunting in a completely new field.
Tell us about what's next. How do you plan to use your newfound skills as you build your career?
After 3 months of job hunting I am delighted to say I was offered a role as a Junior UI/UX Designer. I am putting what I learned in action everyday and want to continue upskilling. I am considering taking CareerFoundry's Frontend Development for Designers course next.
What advice do you have for people who are interested in attending a bootcamp?
Go for it! If you are motivated to learn it is a really intensive and immersive experience. Ask lots of questions and talk to anyone you can about what you are interested in learning and doing next, I have found that people are so generous with their knowledge and it is very encouraging.
---
Are you a bootcamp student or alum? You could be our next giveaway winner! Write a review of your program, and you'll be entered to win an Amazon gift card.