London Data Science Bootcamps
Best of 2021: Rankings, Reviews, and Courses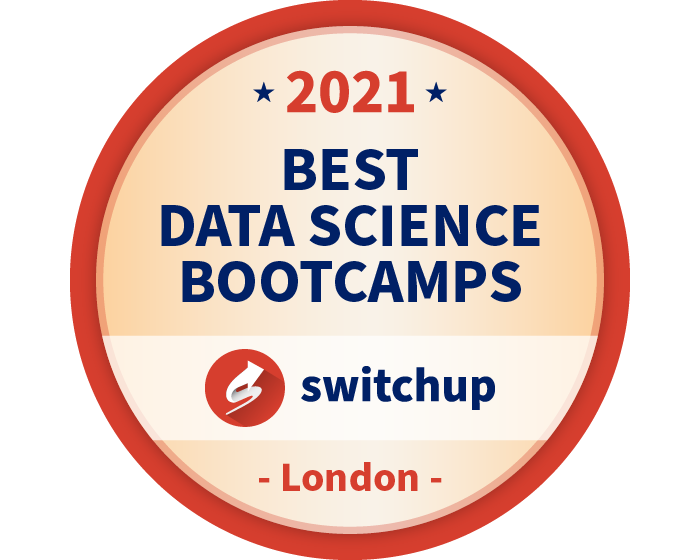 As one of the world's most heavily funded tech sectors and a strong presence in fintech, AI, and clean energy, London remains a global leader in the industry. The city is also home to The Alan Turing Institute, the national institute for data science and artificial intelligence. The city attracts some of the best data scientists in the world and offers top-rated data science bootcamps for those looking to break into the field.
We've compiled a rankings list of the best data science bootcamps in London, based on student reviews, to help prospective students choose which bootcamp is right for them. Since 2014, SwitchUp has been a trusted resource for students considering data science bootcamps. Our list of the best data science bootcamps in London include programs that earned at least 4 out of 5 stars on average with at least 5 student reviews.
For more information on our methodology, click here, or continue reading to find out about career opportunities for data scientists in London. For more options, see our list of the Best Coding Bootcamps or the Best Online Coding Bootcamps.
Job Outlook for Data Science Bootcamp Graduates in London
SwitchUp Rankings Methodology
SwitchUp's rankings are based on over 20,000 reviews from verified students and alumni, across over 500 bootcamps in operation. Because student and alumni feedback and ratings are indicative of bootcamp quality, rankings are ordered by review score. The order of the ranking is based on data at the time of publishing, but the ratings and review counts will change as more reviews come in.
To be considered for the 2021 rankings, bootcamps must help students land jobs in tech through excellent instructor support, curriculum, and career resources; each review left on SwitchUp evaluates the bootcamp on all of these aspects.
All bootcamps considered for the Best London Data Science ranking were required to meet the following criteria at the time of publication:
Offer an immersive or part-time Data Science program in London
Have at least 5 verified reviews of Data Science programs in London
For those London Data Science program reviews, average at least 4/5 stars
Please see our full ranking methodology to see requirements for other rankings.