Best 2021 Online Data Science Bootcamps
10 Top Schools: Rankings, Reviews, and Courses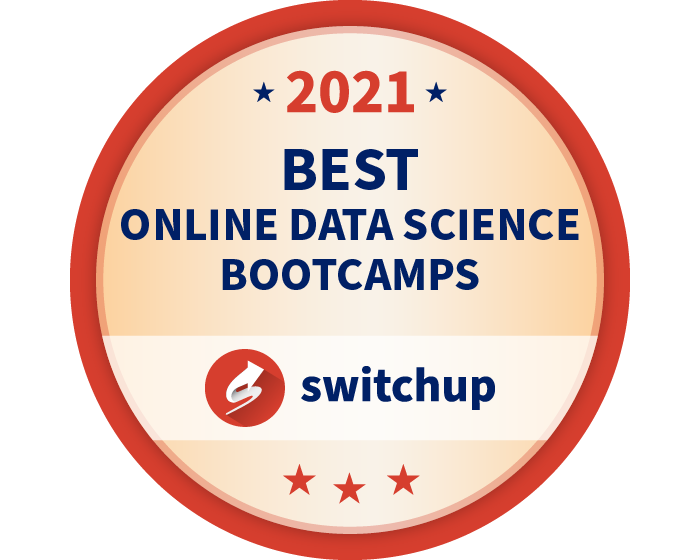 In today's technology-driven economy, data scientists have become a hot commodity, which is why the U.S. Bureau of Labor Statistics anticipates a 15% bump in demand for trained data scientists over the next decade. Motivated job-seekers who have the right skills will find themselves well-positioned to fill these emerging roles. Thus, taking an online data science bootcamp can be a relatively quick and convenient way to master in-demand tools like Python, R, or SQL and to gain the kind of hands-on experience managers want to see in data science job candidates.
Since SwitchUp began ranking bootcamps in 2014, we've become a reliable resource for those who want to identify their best online bootcamp options. Every program on our ranked list of online data science bootcamps, below, has been thoroughly reviewed by at least 10 students, and only those that have earned a minimum 4 out of 5 stars have made the cut. Click here to see our full rankings methodology or continue reading for more information about educational and career opportunities in data science.
Frequently Asked Questions About Online Data Science Bootcamps
SwitchUp Rankings Methodology
SwitchUp's rankings are based on over 20,000 reviews from verified students and alumni, across over 500 bootcamps in operation. Because student and alumni feedback and ratings are indicative of bootcamp quality, rankings are ordered by review score. If bootcamps have the same review score, bootcamps with more reviews are ranked higher to break the tie. The order of the ranking is based on data at the time of publishing, but the ratings and review counts will change as more reviews come in.
To be considered for the 2021 rankings, bootcamps must help students land jobs in tech through excellent instructor support, curriculum, and career resources; each review left on SwitchUp evaluates the bootcamp on all of these aspects.
All bootcamps considered for the best online data science ranking were required to meet the following criteria at the time of publication:
Offer an immersive or part-time data science program that is completely online
Have at least 10 verified reviews of online data science programs
For those online data science program reviews, average at least 4/5 stars
Please see our full ranking methodology to see requirements for other rankings.
Bootcamp Highlights
Looking for a school with specific qualities? We've awarded merit badges to schools in several key areas:
Available Online
Offer either part-time or immersive courses that are available online. This includes courses that are offered temporarily online due to COVID-19.
Verified Outcomes
Offer a job outcomes report that was independently verified by a third-party auditor.
Flexible Classes
Offer self-paced, part-time, or evening classes.
Job Guarantee
Offer guaranteed job placement after graduation, or the student's tuition is refunded. Visit the official school site for related terms and conditions.
VET TEC Provider
Approved as a VET TEC Provider according to the U.S. Department of Veteran Affairs.