LGBTQIA+ Coding Bootcamp Scholarship Guide
By:
The SwitchUp Team
Last Updated:
June 21, 2018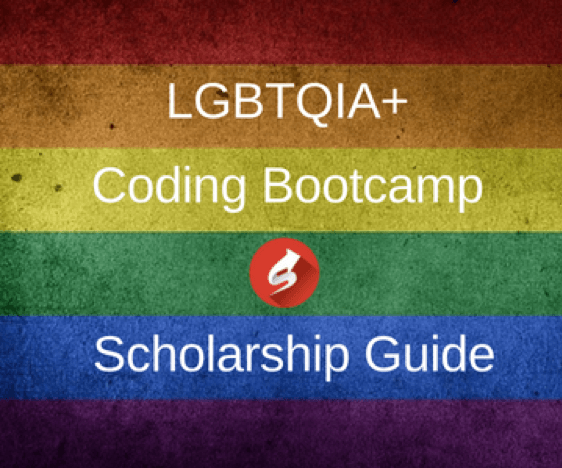 ---
Gay pride or LGBTQIA+ pride, is the positive stance against discrimination and violence toward lesbian, gay, bisexual, transgender, intersex and asexual (LGBTIA+) people to promote self-affirmation, dignity and equal rights. As the LGBTQIA+ community has gained visibility and acceptance, companies in all industries have begun to diversify their workspaces. This includes STEM fields. In recent years, the tech community has focused their efforts on women, POC, as well as LGBTQIA+'s. As a result, many prominent coding bootcamps across the globe have funded scholarships and grants specifically for LGBTQIA+'s. In honor of Pride Month, we have compiled this comprehensive list to help LGBTQIA+ people unlock their highest potentials. After all, we all deserve the space and opportunity to succeed. Happy Pride!
Galvanize
Diversity Discount | 15% Off Tuition
Galvanize recently created a standard discount program for immersive courses on all 8 campuses. The goal of this program is to encourage diversity and inclusivity on campus and in the tech industry. A standard 15% discount is applied to tuition for admitted students who identify as a female, a veteran, a racial/ethnic minority, or LGBTQ.
The Grace Hopper Program
Deferred Tuition | No Upfront Cost
This program is not a scholarship or grant. This affiliate of Fullstack Academy offers female identifying applicants (including transgender, genderqueer, and non-binary individuals) a 17-week software engineering course at Fullstack's New York or Chicago locations, or online, with no upfront tuition. Payment for the program is not due until graduates land a job, at which point the $19,610 tuition is paid back on a nine month installment plan.
Grand Circus
Diversity Scholarship | $1,000 - $1,500 Off Tuition
The following groups automatically qualify for a tuition discount of $1,500 for the full-time course, and $1,000 for the part-time bootcamp: Veterans, anyone who identifies as a woman (including transgender, genderqueer, and non-binary individuals), African Americans, Chicano or Latino people, Native Americans, Pacific Islanders and those that are part of the LGBTQ community.
Metis
Data Science Diversity Scholarships | $3,000
Metis offers a $3,000 Data Science Bootcamp Scholarship to women, members of underrepresented groups, LGBTQ, and/or veterans or members of the U.S. military.
The Recurse Center
Living Expense Grant | $500 - $7,000
This free coding program offers need-based living expense grants for women, trans people, and people from racial and ethnic groups traditionally underrepresented in programming. You're eligible for a grant if you identify as a woman (cis or trans), trans*, genderqueer, non-binary, Black, Latinx, Native American, or Pacific Islander. Since the Recurse Center is free for everyone, the grants are intended to be used for living expenses during your batch. You can use your grant for housing, food, childcare, or anything else you need during your time here. For a twelve week program you are eligible for a grant of $500 to $7,000. For a six week program, you are eligible for a grant of $500 to $3,500.
Other Scholarships and Grants Available to LGBTQIA+ Individuals:
Edie Windsor Coding Scholarship | Up to 50% of Bootcamp Tuition
LGBTQIA+ or gender nonconforming individuals that want to learn to code are eligible to apply for the Edie Windsor Coding Scholarships. Through the organization Lesbians Who Tech, this scholarship awards recipients with up to 50% of their coding bootcamp tuition prior to the start of their program.
Schools that partner with Lesbians Who Tech
In order of SwitchUp Ranking
Grace Hopper Program
Courses : Javascript Full-Stack
SwitchUp Rating : 5 Stars (9 Verified Reviews)
Rithm School
Courses : Web Development Program
SwitchUp Rating : 5 Stars (16 Verified Reviews)
Codeworks
Courses : Full Stack Software Engineering
SwitchUp Rating : 5 Stars (35 Verified Reviews)
Codesmith
Courses : Full Stack Software Engineering Immersive Program, CS Prep - Live Online, CS Prep - Self Directed, CSX - Codesmith Prep
SwitchUp Rating : 4.97 Stars (69 Verified Reviews)
Fullstack Academy
Courses : Bootcamp Prep, Flex Immersive, Fullstack Web Development
SwitchUp Rating : 4.92 Stars (60 Verified Reviews)
Alchemy Code Lab
Courses : Career Track: Python, Career Track: Full-Stack Javascript, Bootcamp Prep: Intro to Software Development in JavaScript, Bootcamp Part One: Fundamentals of Software Development, Bootcamp Part Two: Intermediate Software Development, Career Track: Devsign
SwitchUp Rating : 4.92 Stars (12 Verified Reviews)
Flatiron School
Courses : Coding Bootcamp Prep, Access Labs Initiative, Software Engineering Immersive, Online Web Developer Program, Community-Powered Bootcamp
SwitchUp Rating : 4.91 Stars (159 Verified Reviews)
LEARN Academy
Courses : Jumpstart, Full Time JavaScript, JavaScript
SwitchUp Rating : 4.9 Stars (20 Verified Reviews)
Thinkful
Courses : Engineering Immersion, Full Stack Flex, Data Science, Frontend Web Development
SwitchUp Rating : 4.75 Stars (187 Verified Reviews)
Skill Distillery
Courses : Full Stack Development with Java
SwitchUp Rating: 4.75 Stars (75 Verified Reviews)
Hack Reactor
Courses: Bootcamp Prep Self-Guided (Free Online), Hack Reactor Remote + Blockchain Bootcamp Prep Guided (Live Online), Full Time Software Engineering Immersive, Part Time Software Engineering Immersive
SwitchUp Rating: 4.66 Stars (116 Verified Reviews)
CareerFoundry
Courses: Voice User Interface Design, UI Design for UX Designers, UX Design, Frontend Development for Designers, UX Design Fundamentals, Web Development, UI Design
SwitchUp Rating: 4.41 Stars (56 Verified Reviews)
Hackbright Academy
Courses: 12 Week Immersive Software Engineering Program, 24 Week - Part-Time Software Engineering Program, 24 Week - Part-Time Software Engineering Program, Hackbright Prep Course
SwitchUp Rating: 3.57 Stars (16 Verified Reviews)
Gamma Mu Foundation
Scholarship | $1,000 to $2,500
The Gamma Mu Scholarships Program provides support to gay men who want to further their education at a college, university, or vocational or professional training program. Since 2016, the Gamma Mu Scholarship Program has awarded one scholarship annually ("The Folisi & Goodwin Scholarship in Memory of Ray Williams") to a student from the broader LGBT community. These programs support a wide range of educational options, including vocational and technical training, associate, bachelors and graduate degrees. The only requirement is that the bootcamp you attend be an accredited United States program such as Bottega.
Gay Asian Pacific Alliance Foundation
Scholarship | $5,000
The purpose of the Gay Asian Pacific Alliance (GAPA) Foundation Scholarship is to provide financial assistance to students in high school, undergraduate, graduate or professional school or trade or vocational school who express activism in the Asian and Pacific Islander (API) and/or lesbian, gay, bisexual, transgender, and queer (LGBTQ) communities.